The characteristics of childhood friendship are similar all over the world. In the community of Nasarawa North in Nigeria in 2006, friends 13-year-old Aminu Farouk, 12-year-old Dauda Usman, and 11-year-old Salihu Abdullahi walk to school together, dive in the local reservoir on hot afternoons, and help each other with difficult homework assignments. They also share a deep secret. Each suffers from urinary schistosomiasis, a silent and destructive parasitic infection that leads to poor growth and impaired cognitive function in children.

On a September afternoon in 2006, the three friends' secret was revealed to the world. Each boy delicately held his urine sample in a small glass jar. The liquids were bright red with blood, a hallmark of the disease. Until this moment, they had only confided in their fathers and each other, but as they stood amongst the other children in the community also holding samples, they realized they were not alone.

Like their parents and grandparents before them, the friends contracted the disease through their daily contact with the community's reservoir. To escape the sweltering heat and the monotony of living in a poor, rural area, Usman describes how he would often make his way through the dilapidated housing in his neighborhood and join his friends at the edge of the water to see who could stay underwater the longest.

The reservoir is contaminated with the Schistosoma haematobium parasite, which is shed from certain species of fresh water snails and infects by penetrating human skin. Inside the body, the parasites mature and breed, releasing thousands of spiny eggs that can tear organ tissue and cause bleeding.

Swimming is not the only way to become infected. The disease is easily contracted through any contact with contaminated water such as bathing, washing laundry, and fetching water. An estimated 22 million Nigerians, including 16 million children, need to be treated for schistosomiasis, making the country one of the most endemic in the world. In partnership with Nigerian health authorities, the Carter Center's Schistosomiasis Control Program is the largest initiative currently treating the disease in the country.

For communities already burdened by poverty and ravaged by scourges such as malaria and tuberculosis, schistosomiasis is especially devastating: it is known to cause anemia, weakening the body's resistance to other infections, preventing these young boys from reaching their full potential. Although the disease is currently not considered eradicable, it can be controlled and treated with a single annual dose of the drug praziquantel. The treatment costs about 20 cents.

"They are my best friends because when I don't have something and they have it, they will share, and if they don't have something that I have, I will share," says Abdullahi, the strongest swimmer of the group, barely speaking above a whisper when he explains why he told the embarrassing details of his disease to his friends. "I told my friends so that if they found treatment, they could also let me know, so I could go and receive treatment too."

Since 2007, Nasarawa's children have benefited from annual distribution of the drug praziquantel with the assistance of the Carter Center's Schistosomiasis Control Program and the Nigeria Ministry of Health. In March 2008, now free from schistosomiasis, young children such as Usman no longer have blood in their urine and are able to continue their education and grow healthy.
Multimedia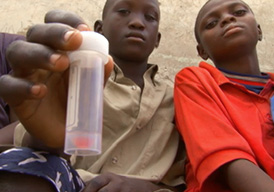 Schistosomiasis: Ending the Anguish of a Silent Disease
Related Resources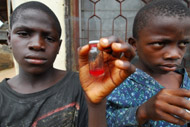 Photo: The Carter Center
Dauda Usman, 12, holds a sample of his bright red urine, a telltale sign of schistosomiasis.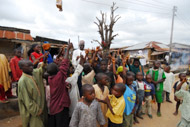 Photo: The Carter Center
John Umaru, Carter Center expert, asks children in the Nasarawa North community to raise their hands if they have blood in their urine.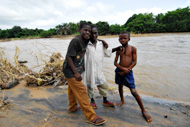 Photo: The Carter Center
Dauda Usman (left from center), Aminu Farouk (center), and Salihu Abdullahi(right) stand in front of the reservoir they swim in three times daily.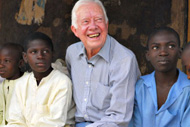 Photo: The Carter Center
Former President Jimmy Carter visited Dauda Usman (left) and other children suffering from schistosomiasis during his Feb. 15, 2007, visit to Nasarawa North, Nigeria. President Carter visited the highly affected community to bring national attention to the country's need to make disease prevention methods and treatments with the medicine praziquantel more accessible in its rural and impoverished communities. Read more about President Carter's recent visit to Nigeria.