Oct. 9, 2007

An Anniversary Message from President and Mrs. Carter
When we first dreamed of creating a center like Camp David, a place where parties could convene to resolve conflicts, we never imagined that 25 years later our vision would embody such a vast worldwide array of interrelated challenges in peace and health. Since 1982, we have watched as citizens cast their first votes in fair elections, celebrated with villagers who have triumphed over Guinea worm and other preventable diseases, and walked alongside people whose lives have been forever changed by the Center's commitment to advancing human rights and alleviating human suffering. Today, The Carter Center is a permanent force for progress, a beacon of hope for the world's most forgotten people, and the culmination of our life's work. Please join us in celebrating the accomplishments of the Center's first 25 years and become our partner in work to wage peace, fight disease, and build hope for generations to come.



Jimmy Carter Rosalynn Carter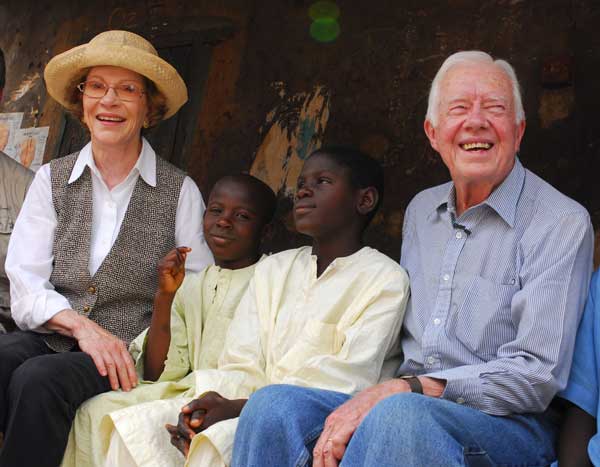 (Photo: The Carter Center)
Former First Lady Rosalynn Carter and former U.S. President Jimmy Carter.
Jimmy Carter Reflects on 25 Years of The Carter Center: Changing Agenda, Enduring Principles
Read the 25th anniversary Q&A with former U.S. President Jimmy Carter and former First Lady Rosalynn Carter
Watch the Carter Center 25th Anniversary Video
Watch archived Conversations at The Carter Center video with the Carters, highlighting 25th anniversary



Read 25 Stories for 25 Years:
A collection of a quarter-century of Carter Center peace and health success stories