Sept. 7, 2012
Today marks an important milestone in President Carter's life—he has had the longest post-White House career of any president.
That's 31 years of waging peace, fighting disease, and building hope since he left office in January 1981, which the former President says has been some of the most rewarding work of his life: "Rosalynn and I are grateful for the support we have seen for the Carter Center's work to help some of the world's poorest and most neglected people get the tools and knowledge they need to improve their own lives."
In recognition of his humanitarian efforts, especially through The Carter Center, President Carter was awarded the Nobel Prize for Peace in 2002.
Celebrating its 30th anniversary this year, the not-for-profit Carter Center, which he and former First Lady Rosalynn Carter founded in 1982, has become a permanent extension of the Carters' vision and courage to make a difference, reaching more than 70 nations. Some of the Center's achievements include:
Cases of Guinea worm disease have been reduced from about 3.5 million in 1986 to fewer than 600 expected in 2012. This historic eradication effort has helped to establish permanent, basic village-based health care delivery networks in thousands of communities in Africa.
92 elections in 37 countries have been observed. And the Center, which helped pioneer election observation, is seen today as setting the standard for neutral and professional election observation practices worldwide.
Bolstered by President Carter's reputation as a peacemaker, Center-led conflict mediations furthered avenues to peace in Ethiopia, Eritrea, Liberia, Sudan, Uganda, the Korean Peninsula, Haiti, Bosnia and Herzegovina, and the Middle East.
In the field of human rights, the Center was instrumental in helping to establish international standards for human rights through the United Nations. Today, the Center serves as an international forum for human rights defenders struggling to protect these important principles on the ground.
And in the field of mental health, tremendous advances have been seen in efforts to end the stigma and discrimination associated with mental illnesses as well as the long fight to create parity for mental health in our health care system.
President Carter's development of the Center has been "only" his fourth career, following decades as a peanut farmer, Naval officer, and elected public official in the state senate, governor's office, and White House.
"We are very fortunate that President Carter has dedicated himself so completely to the work of the Center. His leadership has helped millions of neglected people to enjoy a brighter future," says Carter Center President and CEO Dr. John Hardman. "We are all inspired by his energy, wisdom, and compassion."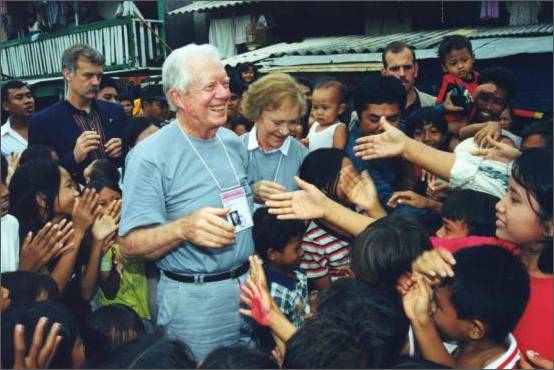 Former U.S. President Jimmy Carter and his wife, Rosalynn, founded The Carter Center in 1982 in partnership with Emory University to wage peace, fight disease, and build hope worldwide. Today, The Carter Center is a trusted partner to some of the world's most vulnerable communities to strengthen democracy, protect human rights, fight neglected diseases, and reduce the stigma and discrimination associated with mental illness. (Photo: Carter Center)

Help us celebrate this milestone in President Carter's life! Download and share these tributes with your friends via email, Facebook, and Twitter:
Read more: The Record-Setting Ex-Presidency of Jimmy Carter >>