Aug. 27, 2012
The Carter Center's China Program recently launched a "China in Africa" website (http://www.sinoafrica.org) to feature original content from African contributors expressing their views on China's impact in their respective communities. The project aims to bridge the gap of understanding between Chinese decision-makers and African communities about China's impact on the African continent.
China Program Director Yawei Liu explains the project.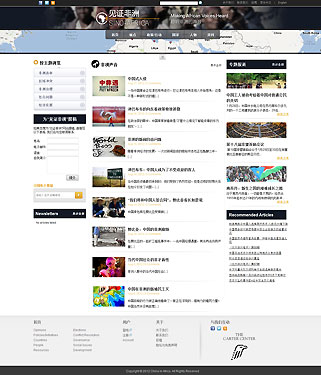 Q: Why did the China Program launch the China-Africa project, what was the need?
China's relations with African countries have witnessed several phases since the founding of the People's Republic in 1949. Prior to the 1980s, China's interest in building close ties with African countries was driven predominately by political and ideological goals. Such motives were illustrated by China's generous aid to African countries, often in exchange for the recipient governments' support to Beijing's priorities in international politics. During the past decade, with its fast growing economy and increasing demand for raw materials, China has again emerged as a major stakeholder on the African continent, with a wide range of pragmatic economic and development interests in almost all African countries.
The growing economic and societal impact of China in Africa has spurred extensive debate within international policy circles and academic communities. Many experts agree that in making business and foreign policies, Chinese decision-makers largely rely on bilateral agreements with African governments, preferring the model of state-led development and often neglecting concerns from local citizens and communities. While the Chinese model of development assistance, known for its "no-strings-attached" nature, is acclaimed by many,  it would further benefit African communities if Chinese decision-makers have an increased awareness and knowledge of the needs, concerns, and expectations of local stakeholders, such as civil society groups, opinion leaders, and individual citizens.
Q: Why would someone visit the website? What would they find and learn there?
The bilingual (English and Chinese) "China in Africa" website is an information portal that provides readers with content written by African contributors who express their views on China's impact in their respective communities. It is the only website that aggregates African voices on China-Africa relations and translates content into Chinese to raise awareness among Chinese stakeholders of the impact of their operations in Africa.
Q: What is the China-Africa project hoping to accomplish by reaching out for original content from Africans and researchers for the website?
The goal in reaching out to African contributors and researchers is to amplify African voices and opinions in Chinese media and policy circles. The Carter Center is making the website more accessible in Africa, developing features that allow people without computer access to provide their input through mobile phone messages and working with Chinese universities to translate content into Chinese in a timely manner.
African communities will benefit from the increased awareness and knowledge of Chinese stakeholders of the needs, concerns, and expectations of local civil society groups, opinion leaders, and individual citizens.
Q: How will this material affect the future direction of the project?
The Carter Center will explore opportunities to work with Chinese partners in specific countries and communities on particular issue-areas, based on the opinions and needs identified by African contributors through the website. Such knowledge also may enable the Center to bring African communities and Chinese stakeholders into dialogues for better mutual understanding.
Visit the website at www.sinoafrica.org.