Carter Center and U.S. Centers for Disease Control and Prevention (CDC) experts discuss the latest updates on the campaign to wipe out a debilitating parasitic disease, river blindness (onchocerciasis) from the Western Hemisphere via Google+ Hangout On Air.
Participants include:
Dr. Mark Eberhard, senior microbiologist, CDC Division of Parasitic Diseases and Malaria
Dr. Frank Richards, director, Carter Center River Blindness Program
Dr. Mauricio Sauerbrey, director, the Carter Center's Onchocerciasis Elimination Program for the Americas
Working through its Onchocerciasis Elimination Program for the Americas (OEPA), The Carter Center supports national efforts among the six endemic countries — Colombia, Ecuador, Mexico, Guatemala, Venezuela, and Brazil — to successfully interrupt transmission of river blindness, through health education and mass Mectizan® (ivermectin, donated by Merck) distribution.
Today, the region's historic elimination campaign nearly has halted disease transmission in 11 of 13 endemic areas. In addition, there have been no new reports of blindness caused by the disease. Efforts concentrate now on the remaining area of disease transmission in the Amazon rainforest on the Brazil-Venezuela border.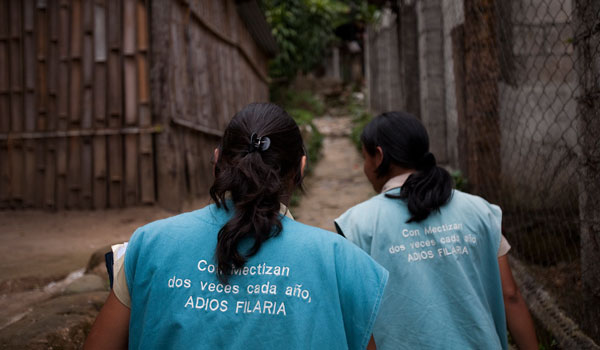 The hard won progress against river blindness in the Americas can be credited in large part to local health workers who tirelessly travel to some of the world's most remote communities, providing drug treatment, case surveillance, and health education. (Photo: The Carter Center/P. DiCampo)
Partners in the effort to wipe out river blindness from the Western Hemisphere include: thousands of community-based volunteers, the Ministries of Health of the six endemic countries, The Carter Center, the U.S. Centers for Disease Control and Prevention, the Pan American Health Organization, Merck and the Mectizan® Donation Program, the Bill & Melinda Gates Foundation, the United States Agency for International Development, the Lions Clubs International Foundation and the local Lions Clubs from the six countries, Mr. John Moores, the OPEC Fund for International Development, the Alwaleed Bin-Talal Foundation, several universities in Latin America and the United States, and many other individual donors.
Related Resources
Read Morbidity and Mortality Weekly Report: Progress Toward Elimination of Onchocerciasis in the Americas — 1993–2012 »