Oct. 28, 2013
The geographic lines dividing Sudan and South Sudan "are completely blurry, so we focus on the lines that connect us," Professor Jok Madut Jok, undersecretary in South Sudan's Ministry of Culture, said during a "Conversations at The Carter Center" on Oct. 15.
Disputes over borders, an oil pipeline and access to resources persist in Sudan and South Sudan, which separated into distinct republics in 2011 after decades of civil war. But The Carter Center, which helped broker the 2005 peace agreement, has never stopped guiding the parties toward harmonious coexistence.
At the Oct. 15 event, Jok and the Republic of Sudan's Ambassador Nureldin Satti sat side by side, often calling one another "brother."
Sudan is "a rainbow nation, a microcosm of Africa," Satti said. The civil war and subsequent division was "a failure," he said, but "Sudan is one people in two countries. We belong to each other."
Itonde A. Kakoma, assistant director of the Center's Sudan-South Sudan Dialogue Group, moderated the event, co-sponsored by Emory University's Institute for Developing Nations. The Dialogue Group is a one-year project to provide a forum for key individuals from both countries to produce practical and achievable ideas for lasting understanding.
"Dialogue with all parties is essential to peace," Kakoma said.
Each country has resources – namely petroleum and water – that the other needs. Peace must be built on justice, equality, and "a vested interest in living together," Satti said.
"At the end of the day, it is culture that unites people," he said. "We believe there is a common culture (between north and south) that has existed for centuries." This "unity of heritage" can be the basis for lasting peace, he said.
Freedom to cross the border would help reinforce those common bonds, Jok added.
"We have to get the buy-in of the people of both countries," Satti said, "because without it you cannot do it. There is no other way than dialogue. … It may be difficult, but it is necessary."
That is why the Center's efforts, in partnership with the Future Studies Center in Khartoum and the Ebony Center for Strategic Studies in Juba, have focused on diplomacy below the highest reaches of government.
"What our politicians have done to this point has not served us," Jok stated in response to a question from the audience about leaders' sometimes hateful rhetoric. Satti concurred with a nod of his head.
"All countries are made by their people," Jok said. "No one is handed a country perfect, and unfortunately it doesn't come with a manual."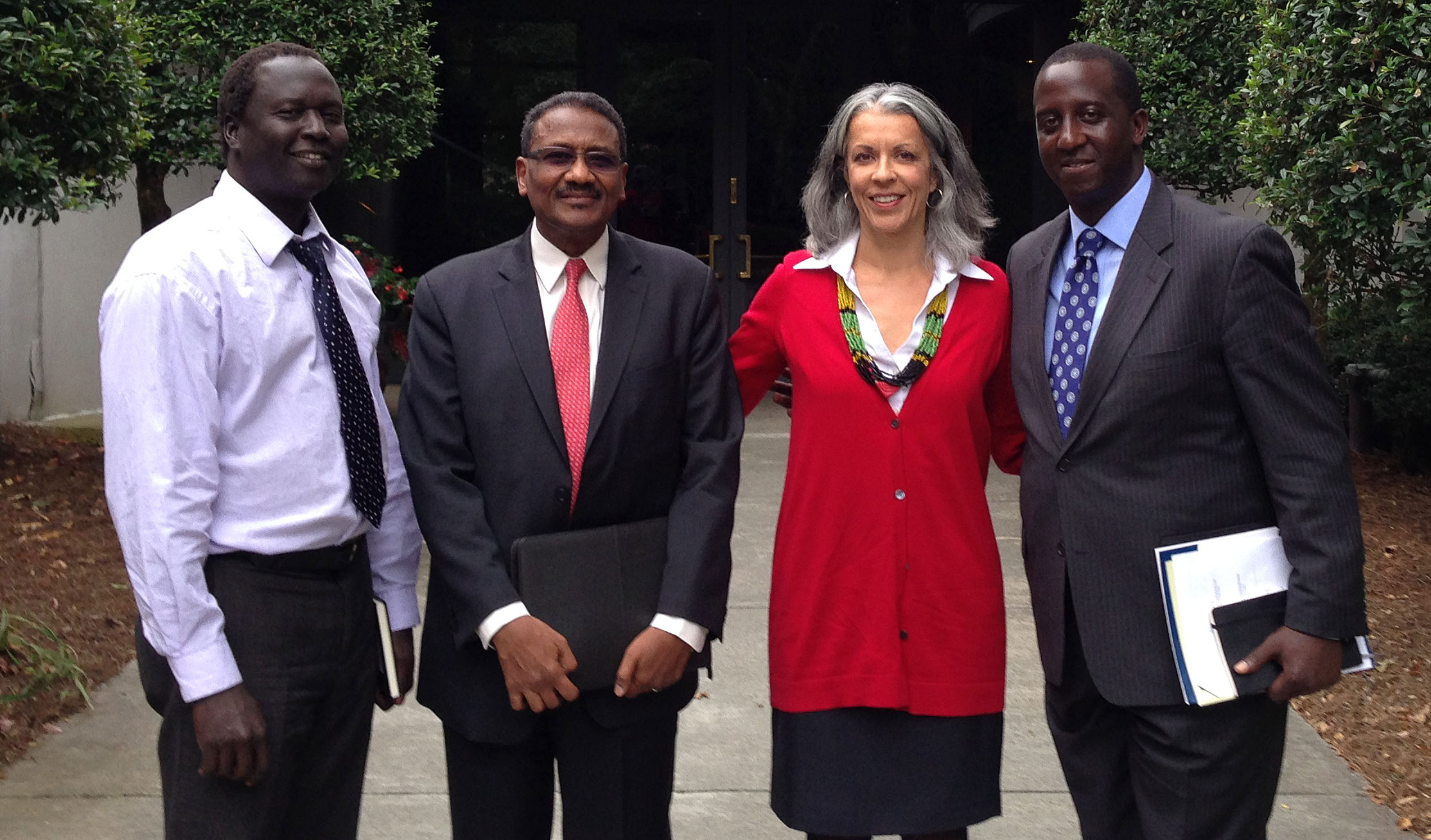 (From left to right) Jok Madut Jok, undersecretary in the Ministry of Culture, Youths, and Sports for South Sudan; Ambassador Nureldin Satti, director of the National Library of Sudan and co-chair at the Woodrow Wilson International Center's Sudan Working Group; Sita Ranchod-Nilsson, director of Emory University's Institute for Developing Nations; and Itonde Kakoma, assistant director of the Carter Center's Conflict Resolution Program stand outside of The Carter Center on Tuesday, Oct. 15, 2013. (Photo: The Carter Center)
Related Resources
View the archived video of this event »