Until 1924's Indian Citizenship Act, American Indians did not have the legal right to vote.
Even after that, states found ways to make voting difficult for Native Americans. New Mexico didn't remove its legal restrictions on native voters until 1962, according to Virginia Davis, senior policy advisor at the National Congress of American Indians. Native Americans were effectively the last group in the United States to get the right to vote, and they still face a series of multifaceted challenges that are too often overlooked.
Last December, The Carter Center – which observed elections in the Cherokee Nation in both 1999 and 2011 – brought together a group of experts to discuss the current state of voting rights for Native Americans.
What we heard was troubling, and so we decided to continue the conversation by hosting a panel discussion on barriers to participation as part of the United Nations Permanent Forum on Indigenous Issues in May.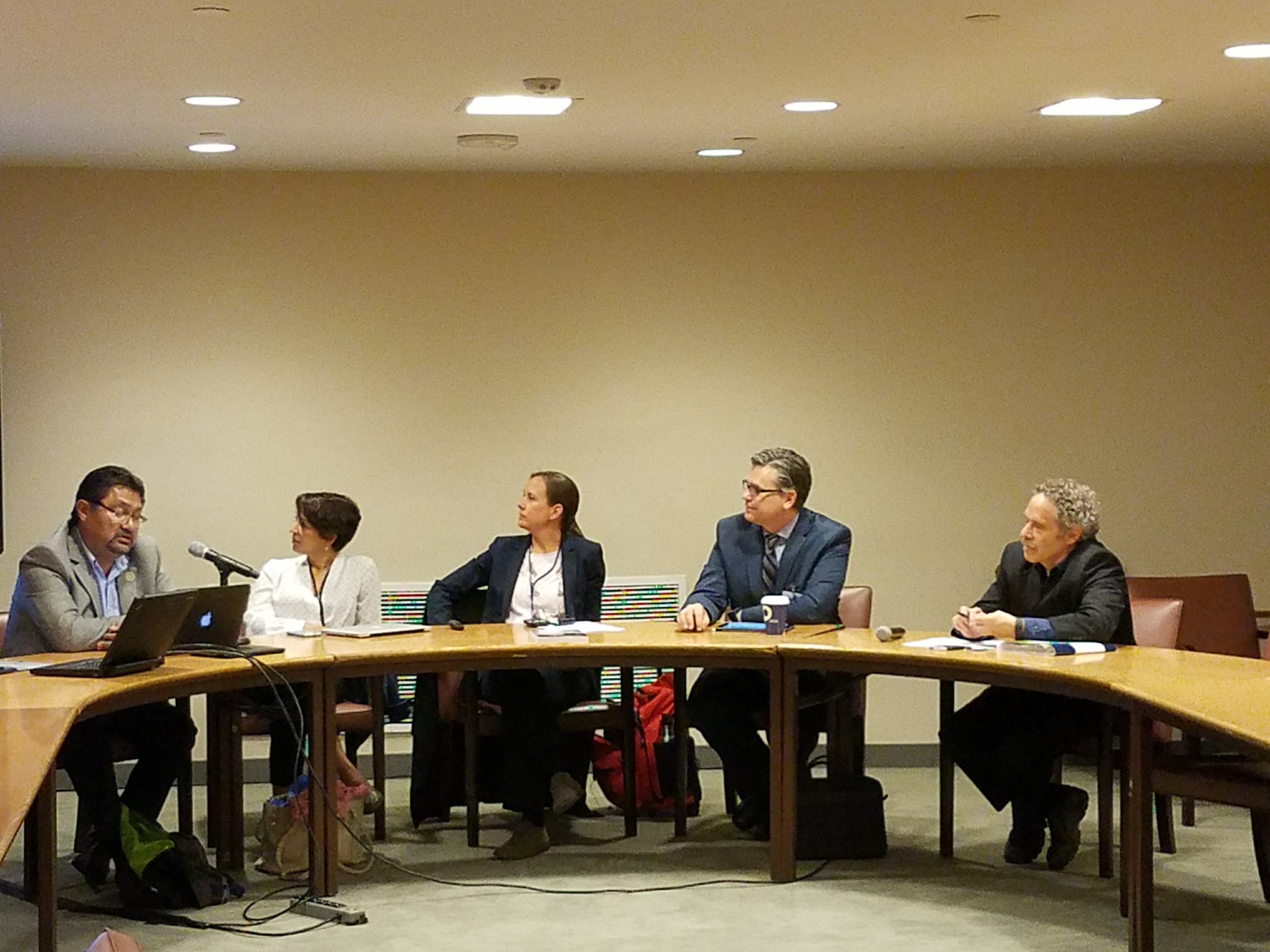 Participants discuss barriers that sometimes keep Native Americans from voting in U.S. elections during a panel at the U.N. organized by The Carter Center. (Photo: The Carter Center)
Leonard Gorman of the Navajo Nation and Chad Vickery of The International Foundation for Electoral Systems joined Virginia Davis on the panel, which also included David Carroll and Avery Davis-Roberts of the Carter Center's Democracy Program.
Panelists spoke of difficulties with voter identification requirements, access to voter education and polling materials in native languages, and access to polling locations.
In last November's election, they said, some Native Americans had to drive over 100 miles to the nearest polling location. Davis noted that in Alaska in November, many villages are accessible only by plane — or sometimes by snowmobile when the rivers freeze — rendering residents in villages without polling stations unable to vote.
In other parts of the country, native voters were denied a ballot because they had only a tribal ID.  Voter intimidation was also an issue; in some places, there is hostility between Native Americans and their neighboring communities, and native voters sometimes face harassment and racism when voting at certain locations.
Gorman reminded attendees that indigenous people are not monolithic. As such, methods to increase participation and to remove voting barriers cannot be one-size-fits-all. Organizations often push for change by filing lawsuits, but that can be cost prohibitive. Other methods include increasing voter education and outreach, and supporting diplomacy between tribal leaders and election administrators.
"The Carter Center has observed 103 elections in 39 countries," said Avery Davis-Roberts. "We believe it's essential for citizens around the world to be able to exercise their right to choose their leaders, including the native peoples of our own country. We look forward to continuing the discussion about how we can help make that happen."
Related Resources