Aug. 15, 2017
Jordan Ryan is vice president, peace programs, at The Carter Center.
The task for peacemakers today is urgent.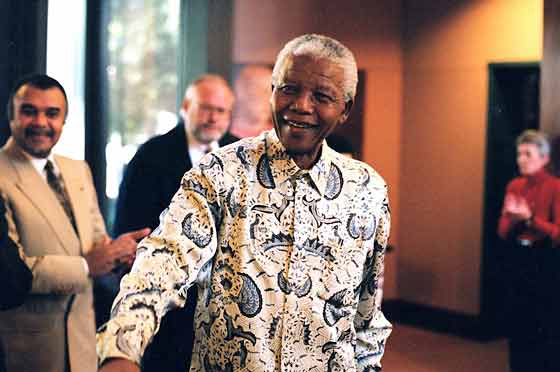 Nelson Mandela visits The Carter Center in 2006. Before being elected president of the new South Africa, Mandela had to choose to negotiate with his former enemies. (Photo: The Carter Center)

In a series of posts on this blog, I share some of the approaches to waging peace that that The Carter Center and its founder, former President Jimmy Carter, have developed or learned over many years.
—
Principle No. 5: You have to deal with the bad guys.
If you want to achieve peace, you must be willing to shake hands that have blood on them.
President Carter sat down and bargained with the likes of Hamas and Slobodan Milosevich and the tyrants who have run North Korea for three generations.
In 2008, President Carter helped facilitate cease-fire talks between Hamas leadership in Gaza and Israel, which could have been built upon to reduce the violence. But the international community has refused to engage Hamas, resulting in two horrific wars since then that left thousands dead in Gaza, including hundreds of children, and 33 Israelis dead.
Nelson Mandela negotiated with the vicious apartheid regime in South Africa that had imprisoned him for 27 years.
Why deal with bad guys? Because these are the people responsible for the violence — and therefore the only ones who can guarantee peace.
Next principle: Think outside the box.
Previous principles: 
Pathways to Peace | Principle No. 4: Be Both Pragmatic and Principled »
Pathways to Peace | Principle No. 3: Patience and Persistence Pay Off »
Pathways to Peace | Principle No. 2: One Size Does Not Fit All »