Feb. 6, 2017
Jimmy Carter is co-founder of The Carter Center.
After leaving the White House, Rosalynn and I searched our hearts for ways to use our unique position to help those less fortunate around the world. We knew that two issues were of paramount importance: advancing peace and preventing human suffering.
So, in 1982 we took a leap of faith and founded The Carter Center. Waging peace, fighting disease, and building hope became the core of the Center's mission — a mission that remains extremely urgent today.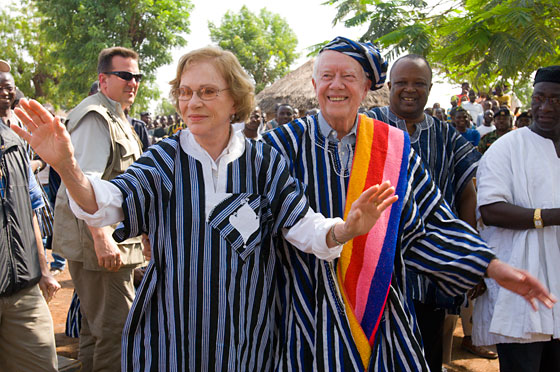 Former U.S. President Jimmy Carter and former First Lady Rosalynn Carter wear traditional Ghanaian attire, a gift from the chief of Tingoli village in northern Ghana. The Carters visited the village Feb. 8, 2007, as part of a two-week health tour of remote African villages. (Photo: L. Gubb/ The Carter Center)
Preventable diseases and suffering still cripple hundreds of thousands of lives each year, and the forces of hatred and violence still make freedom a distant dream in too many places. What's more, when conflicts erupt — whether in Korea, Uganda, Sudan, the Middle East, or anywhere in our world — for every soldier killed, nine civilians perish from stray bullets, bombs, land mines, and deliberate deprivation of food and medical care.
The toll taken by armed conflicts extends beyond the pain of immediate victims; world peace can be threatened as well. By preventing disease and suffering, advancing democracy, and nurturing hope and freedom, The Carter Center seeks to make the world a safer, freer place.
The Carter Center has a relatively simple approach that really works. Within our own country as well as in other nations, we form partnerships with organizations, corporations, foundations, officials, and individual supporters. We create a unified team that is far more effective than any one of us could hope to be. The results are gratifying.
Mediating conflicts, advancing democracy, and improving health care are just a few of the ways The Carter Center wages peace, fights disease, and builds hope for people in need. Fulfilling this mission makes Rosalynn and me very proud. Whether the borders that divide us are picket fences or national boundaries, we are all neighbors in a global community.