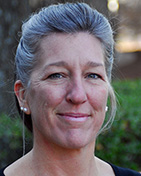 Kelly Callahan is director of the Carter Center's Trachoma Control Program.
Hard work for a good cause can be its own reward. It's even better when you have results to show for it. In 2018 The Carter Center is marking 20 years of impact against trachoma, the world's leading cause of preventable blindness.
We and our partners, including the ministries of health, Conrad N. Hilton Foundation, and Lions Clubs International Foundation, use the World Health Organization-endorsed SAFE strategy to fight this neglected tropical disease. SAFE encompasses Surgery (to correct painful trachoma-deformed eyelids), Antibiotics (Zithromax®, donated by Pfizer Inc through the International Trachoma Initiative), Facial cleanliness (to keep away the eye-seeking flies that help spread the infection), and Environmental improvement (to reduce fly populations).
When we first became involved, the Center focused on the F and E components in Ghana, Mali, Niger, and Nigeria, relying on the community-based public health model that had made our Guinea Worm Eradication Program so successful in all of those countries. It soon became clear that the full SAFE strategy would need to be implemented if real progress was to be made, so we quickly became experts in mass distribution of antibiotics and in bringing sight-restoring surgery to isolated, remote places, starting with Sudan.
SAFE worked well on a relatively small scale. Then, in 2003, the Ethiopian government invited The Carter Center to embark on the most audacious effort in the history of the international trachoma campaign — implementing the full SAFE strategy in Ethiopia's Amhara region, whose huge population is spread across a vast and challenging terrain.
A pivotal moment came in 2005 when President Carter and Mrs. Carter traveled to Amhara with a high-level delegation to witness unprecedented community participation — instead of building the planned 10,000 latrines, enthusiastic citizens built 90,000 in one year. On that trip was Joe Feczko, the chief medical officer of Pfizer, along with Dr. Paul Emerson, my predecessor leading the Center's trachoma program. They all saw firsthand how energized people in Amhara were to help themselves; but they also saw that not everyone was being reached. Pfizer was already committed to donating large amounts of Zithromax, but Feczko went back to the corporation and said, "Look, we have to do more."
And Pfizer stepped up to that challenge, increasing its commitment to the global trachoma elimination campaign. To date, Pfizer has donated a total of more than 700 million doses of Zithromax to this effort. In 2010, the Center accomplished the largest drug distribution for trachoma ever. All told, I'm proud to say that by the end of 2017 The Carter Center had cumulatively assisted in more than 775,000 corrective surgeries, the delivery of 175 million doses of antibiotics, the training of 350,000 people to show their communities the benefits of facial cleanliness, and the construction of more than 3.6 million latrines.
We've continued to study and improve our methods and approaches. Now in one of the most challenging trachoma environments in the world, 4.1 million of the 22 million people in Amhara no longer need mass drug administration. Entire countries, like Ghana and Mali, are demonstrating that they can beat back trachoma. Also, the data show significant other collateral health and socio-economic benefits have come with antibiotics and improved sanitation.
Today, The Carter Center continues to assist in Ethiopia's Amhara region, as well as Mali and Niger (both close to wiping out trachoma), South Sudan, Sudan, and Uganda. Carter Center-assisted efforts have eliminated trachoma as a public health problem in Ghana and two states in Nigeria. These successes have been achieved through strong partnerships with governments, communities, the Lions Clubs International Foundation, the Hilton Foundation, Pfizer, and other important partners and supporters. They show what partnership, trust, loyalty, commitment, and persistence can do.
The year 2018 marks 20 years since I started working for The Carter Center, at the time with the Guinea Worm Eradication Program. It's also been 20 years since the International Trachoma Initiative was founded, following the World Health Assembly's passage of a resolution calling  for trachoma to be eliminated as a public health problem by 2020. Back then, I never could have projected the things we would attain. Now, I would never doubt it.
Related Resources
Learn more about the Center's Trachoma Control Program »