Nov. 29, 2022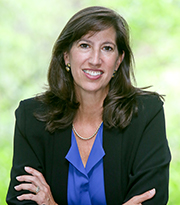 Paige Alexander is the chief executive officer of The Carter Center.
This fall has been an exciting time at The Carter Center. We celebrated the anniversary of our founding 40 years ago, President Carter celebrated his 98th birthday, and we dedicated a 200-year-old Japanese bell on our campus.
With the anniversary, we have been looking back at some of the things we've accomplished in the past: bringing Guinea worm disease cases down from 3.5 million in 1986 to just 15 human cases last year; observing more than 110 elections in 39 countries; eliminating river blindness in four countries in the Americas.
And while reviewing and reminiscing have their place, we are more focused on what we plan to do next.
The Carter Center is implementing an exciting new strategic plan that will serve as the framework for our programming for the next decade. We are primed to use our experience to do new things in new ways to help tackle the emerging problems we face as a global community.
The first tenet of that strategic plan is that we will fulfill our existing commitments: We will continue to fight for human rights, observe elections, eradicate Guinea worm disease, combat the stigma of mental illnesses, and do the many other things you have supported over the years.
On top of those ongoing commitments, we are adding new programming that speaks to the realities of life in 2022.
This year, we have become more engaged in election processes closer to home, promoting democratic norms, working to avert potential election violence, and highlighting disinformation.
We are leveraging technology to follow political speech on social media in Myanmar, and we are implementing an innovative program for young people in Sudan, training them to monitor the country's democratic transition so that they can have a say in Sudan's future.
We are using social media to promote women's and girls' rights to have access to information through the Inform Women, Transform Lives campaign, which is working with a second cohort of cities around the world this year.
The last 40 years have seen some exciting Carter Center accomplishments. We look forward to what we can do in the next 40 years.
Related
Center Turns 40: Staff Share Memories »
Timeline: The Carter Center Celebrates 40 Years with 40 Key Moments »