Oct. 8, 2007
Alex Ulmanu sometimes wonders if things could have been different.
"I had a colleague in university who was a brilliant, brilliant person and who committed suicide in her very early 20s. We learned afterward that she was suffering from schizophrenia," Ulmanu said.
Now as an assistant professor in the School of Journalism and Mass Communication at the University of Bucharest, Ulmanu has considered how access to accurate information on mental health in his homeland of Romania could have prevented his friend from succumbing to her illness.
"If she got proper treatment…or maybe if professionals had more access to information…or if things were perceived differently by the public…"
Ulmanu and two of his colleagues from Romania visited The Carter Center in September for a three-day meeting with mental health professionals, media experts, and fellow journalists to discuss how media can reduce stigma and discrimination against people with mental illnesses through informed newspaper articles, television and radio broadcasts, and documentaries.
The meeting is part of the Center's Rosalynn Carter Fellowships for Mental Health Journalism, which seek to reduce the stigma of mental illnesses by promoting a global dialogue on mental health through a core of journalists who strive to increase accurate reporting of mental health issues and decrease incorrect, stereotypical information. The program has awarded fellowships to journalists in the United States, New Zealand, and southern African countries.
Now in its 11th year, it is expanding to Romania through a partnership with the Center for Independent Journalism. Romania is a country still undergoing political and economic reforms nearly 20 years after communist control. The fall of communism in 1989 led to a boom in private media companies in Romania. Today, there are an estimated 600 newspapers distributed throughout the country. In such a competitive market, journalists often do not have the time or the editorial support to thoroughly research and report on their topics and their resulting stories often lack important information, or in the worst cases, are inaccurate.
Because Romania faces this unique challenge, Ulmanu and his colleague Paul Radu, co-founder of the Romanian Center for Investigative Journalism, under the leadership of their advisers, will develop intensive workshops to train journalists on how to accurately report on mental health by exploring the latest scientific research and ethical concerns, among many other issues. These workshops will be offered to both journalists and professors of journalism working in select cities in an effort to improve the quality of reported information. In fall 2008, the program will award two new Romanian journalists with fellowships to research and write on a mental health topic of their choice.
Accurate reporting on mental health issues has the potential to positively impact many Romanians silently suffering from mental illnesses.
"We are teaching people to really do journalism, not simply record what happens around them without asking the right questions. I think the percentage of people who would find mental health stories relevant for their own lives is really much higher than many in Romania think," said Ulmanu.
---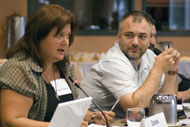 Carter Center Photo: D. Hakes

Ioana Avadani (left), Romania's international adviser to the Rosalynn Carter Fellowships for Mental Health Journalism and Executive Director of the Center for Independent Journalism, and Alexandru Ulmanu, one of two incoming Romania fellows, discuss how training workshops will better prepare journalists to report on mental health issues facing their country.
Carter Center Mental Health Program Observes World Mental Health Day
Read about other Rosalynn Carter Mental Health Fellows around the globe working to change the public's misperceptions about mental illnesses.


Michelle Roberts
Mental Health Fellow Breaks Down Stereotypes


Tamar Kahn
In South Africa, a Journalist Finds Words for Unspeakable Tragedies