Jan. 4, 2008
Today, a visitor to the Mbale district of eastern Uganda might see Mustafa Mugwano happily plowing his fields in the lush farming village of Bunawazi. But two years ago, he would have been found living alone in the forests bordering the village. Mugwano survived there for more than 10 years after having been turned away by his community.
In the early 1990s, Mugwano's eyesight began to weaken, and his skin developed lumps and severely itchy rashes.The unbearable itching forced Mugwano to scratch his legs with rocks and coarse sticks, cutting them open and permanently disfiguring his skin. His symptoms became increasingly worse until he could no longer concentrate on his work. Neither he nor his family knew what was ailing him, but many in the village suggested that he was bewitched. Eventually people feared Mugwano, and he was abandoned by his three wives and exiled from Bunawazi.
"I hated myself. I knew I was going to die and be eaten by dogs since no one wanted to be near me," he remembered.
Mugwano was suffering from river blindness (onchocerciasis). Spread by the bites of tiny black flies, parasitic worms enter the body, mature, and reproduce. The offspring, known as microfilariae, swarm under the skin and cause intense itching. If the microfilariae migrate to the eyes, vision can weaken and lead to blindness. An estimated 2 million Ugandans are at risk for contracting the debilitating disease. The Carter Center assists the Ugandan Ministry of Health's River Blindness Program to control the disease by educating people on its cause and symptoms and treating those at risk with annual doses of the drug Mectizan®, donated by Merck & Co., Inc.
In early 2007, Uganda's River Blindness Program embarked on an ambitious initiative to eliminate the disease nationwide. In the first areas targeted under the new plan, health workers have intensified Mectizan treatments, providing two doses each year instead of one. This approach has proven effective in Latin America for stopping transmission of the disease. The Vector Control Division of Uganda's Ministry of Health also works to eliminate the black flies in small and isolated breeding areas, as well as control the numbers of biting black flies in large or hard to access areas.
Twice yearly drug treatments helped Mugwano regain the life he had enjoyed before his illness. After living in exile for more than a decade, Mugwano and others residing illegally in the protected national forest were ordered to leave by park officials. Mugwano had no choice but to return to the community that once ostracized him.
Fortunately, in the years since Mugwano left, villagers had been educated about river blindness and recognized his symptoms at once. Mugwano was immediately treated with Mectizan tablets, and after two years, he is much happier with his life. His sight has improved, although his legs are permanently scarred. He welcomes those who come to visit him and has reconciled with his three wives.
Said Mugwano, "I feel that life has been brought back to a lifeless soul."
You can change a life. Learn how
Related Resourses
Learn more about the Carter Center's River Blindness Program
Read about Uganda's Attempts to Eliminate River Blindness Nationwide
Read the Article: A Vision For The Future Of Health Care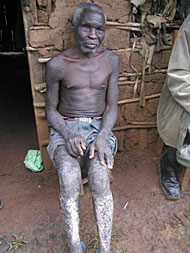 The Carter Center/Peace Habomugisha
Mustafa Mugwano's legs are permanently scarred from his battle with river blindness, but his vision has improved with Mectizan® treatments