Oct. 1, 2008
River blindness is such a pervasive disease in Africa that many global experts believe it can only be controlled not eliminated. But Uganda has announced plans to rid the disease, despite hefty challenges. The country's Ministry of Health officials believe that eliminating the disease will be more cost-effective than continuing control efforts indefinitely for its estimated 2 million citizens at risk.

In early 2007, high-ranking Ugandan government officials announced the country's strategy for eliminating the health threat. The Carter Center has assisted the Uganda River Blindness Program since 1996 and supports the new initiative. The confidence to eliminate river blindness in Uganda is strengthened by success in previous decades in eliminating it in three areas affecting more than 3 million people by vector control-that is, killing the flies that carry the disease.

The plan announced this year calls for conquering the disease in isolated areas where the flies that spread the disease can be controlled. One factor that makes Uganda a good place to try elimination is the nature of river blindness vectors there. The black fly responsible for about 70 percent of river blindness transmission in the country (called Simulium neavei) has a very short flight range, which means that these flies are unlikely to spread the disease to neighboring areas because they cannot travel far. In other parts of Africa, the fly that transmits the disease (Simulium damnosumspp) has a flight range of more than 100 kilometers, making a vector control program more difficult to execute.

Efforts to control the fly population will work hand in hand with mass treatment of the population with the oral drug Mectizan®, donated by Merck & Co., Inc., which is given to treat and prevent the disease. In the six areas currently targeted by Uganda for elimination, the program has intensified Mectizan treatments by moving from annual treatments to treatments every six months, an approach that has proven effective in Latin America for stopping transmission of the disease.

Although rarely fatal, river blindness's advanced symptoms, including intense itching, skin rashes, and diminished vision, strip people of their livelihoods. Young people who do not yet have severe symptoms are forced to leave school and take jobs to care for ailing family members. In Uganda, people who suffer from severe rashes and vision loss are sometimes psychologically traumatized or disrespected in the community.
Learn more about the Carter Center's River Blindness Program.

Read Mustafa Mugwano's story >>
 
Photo credit: Carter Center/M. Katabarwa
(Click to enlarge)
Community health workers distribute Mectizan in Uganda.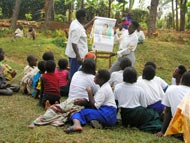 Photo credit: Carter Center/M. Katabarwa
(Click to enlarge)
Ugandan community members gather for health education about river blindness.
Learn more about the Carter Center's work in Uganda >>
Learn more about the Carter Center's River Blindness Program >>
Carter Center, Partners, Celebrate 100 Millionth Mectizan® Treatment >>  
July 20, 2007: Uganda Launches Bold Policy to Eliminate River Blindness (Eye of the Eagle, Vol. 8. No. 2, PDF) >>