Jan. 3, 2008
ATLANTA, GA….. The Carter Center's River Blindness Program, with its global partners, announced recently the 100 millionth treatment of Mectizan® since 1996. The drug, proven effective and safe in treatment and prevention of river blindness, also called onchocerciasis, is donated by Merck & Co., Inc.

The Center's partners who have assisted in the delivery of the treatments include: the 11 national river blindness programs in Africa and the Americas; Lions Club International Foundation; Centers for Disease Control and Prevention; Merck & Co., Inc.; Mectizan® Donation Program; African Programme for Onchocerciasis Control; and the World Health Organization.
River blindness is a parasitic disease transmitted by the bites of small black flies that breed in rapidly flowing streams and rivers. The parasites cause intense itching, and sometimes, blindness. Since 1996, The Carter Center has been a leader in the fight against river blindness in Africa and the Americas by working in thousands of communities in 11 countries.

The Carter Center's River Blindness Program assists ministries of health to eliminate river blindness in the six countries in the Americas - Brazil, Colombia, Ecuador, Guatemala, Mexico, and Venezuela - through the special Onchocerciasis Elimination Program of the Americas and to control river blindness in five African countries: Cameroon, Ethiopia, Nigeria, Sudan, and Uganda.
Learn more about the Carter Center's River Blindness Program.

Read about Pitasia Gonzales >>

Read Mustafa Mugwano's story >>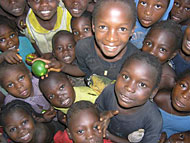 Carter Center Photo:  E. Staub

Learn more about the Carter Center's River Blindness Program