Abu Hamad, a vast and isolated desert community 500 kilometers from the Sudanese capital, Khartoum, is on the verge of disproving a long-held belief among public health professionals that river blindness (onchocerciasis) cannot be eliminated in Africa due to poor health care delivery and the disease's prevalence.
In this three-part video journal, join Carter Center expert Dr. Moses Katabarwa and his colleagues from the Sudan Ministry of Health and Lions Clubs International Foundation in the field as they guide and support the pioneering community-based approach that has brought this debilitating and potentially blinding parasitic skin disease to the brink of elimination. The multi-pronged strategy: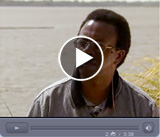 Part I: "The Trip to Abu Hamad"
(Run time 3:38)
Until 2008, the only way to reach Abu Hamad was to use the Nile River as a compass and drive across unmarked, unpredictable desert tracks. Even today, there is only one paved road. In this segment, take an adventurous journey with Dr. Katabarwa and the Sudan river blindness team more than 500 kilometers up the Nile and through the desert to Abu Hamad.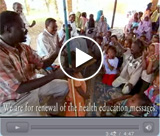 Part II: "The Education of Jeref"
(Run time 4:47)
Jeref, a village in Abu Hamad locality, has made significant strides against onchocerciasis, but Carter Center and Sudanese health experts know that educating people about how to prevent the disease is crucial to permanently eliminating it. Follow the team as they work side by side with community members learning new health care approaches.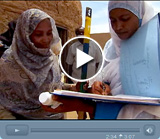 Part III: "Women and Biomedicine"
(Run time 3:07)
Traditionally, women have been the primary health caregivers in Abu Hamad, but their roles were diminished by the introduction of modern medicine, a male-dominated field. Today, local attitudes are changing again. Women make up half of the community's population, and therefore, their participation in the elimination effort is crucial. The team is excited to see women participating in the river blindness program like never before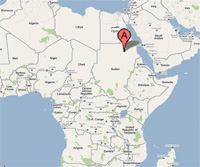 (Click to enlarge)
Abu Hamad, an isolated Sudanese community accessible via only one paved road, is on the verge of eliminating onchocerciasis (river blindness).

Learn More:  Carter Center River Blindness Program