Feb. 10, 2008
Founded by freed American and Caribbean slaves in the mid-1800s, Liberia is Africa's oldest republic. Relatively stable for more than a century, the government was overthrown in 1980 during a military coup and the country descended into civil war and economic chaos in 1989 that abated briefly from 1995-1999. A peace agreement was finally reached in 2003, a transitional government was established, and elections were held in 2005 with Ellen Johnson Sirleaf elected as Africa's first woman president.
At the invitation of the Government of Liberia, the Carter Center's "Strengthening the Rule of Law and Combating Impunity" project, begun in October 2006, is filling critical gaps in the delivery of justice in rural Liberia.
Working in partnership with Liberia's Ministry of Justice, the program is:
Building technical and administrative capacity in the Ministry of Justice by providing legal consultants to support the day-to-day work of the ministry-including working to establish a gender crimes unit-and training ministry employees in legal drafting, research, and analysis;
Conducting public education and awareness campaigns, including public information messages about the legal system, the role of the judiciary, citizens' fundamental rights, and ongoing legal reform;
Creating dialog on the relationship between the formal legal system and traditional justice practices, particularly strong in Liberia's rural regions.
Among the nongovernmental organizations currently at work in Liberia, the Center plays a particularly valuable role: working from both the "top down" and the "bottom up," the Center and its partners take the government's message to the most rural villages in the country, and bring the average Liberian's feedback and concerns, in turn, back to government officials.
Capacity building
Senior legal consultants are working closely with Liberia's Minister of Justice, Philip A.Z. Banks to train and mentor ministry staff, including the county attorneys, training them in, among other things, civil law and criminal procedure.
According to Councilor Banks, timely prosecution is critical for Liberia's success.
"Our major challenge is prosecutorial," he said in a recent interview. "We are trying to refocus our attention so that we're able to prosecute as quickly as we can. We've made tremendous economic progress, but in the rule of law…there is still a tremendous amount of work that needs to be done."
Combating epidemic domestic abuse is also a top priority, according to Councilor Banks, citing the creation-with Carter Center legal staff support-of a new sex crimes and domestic violence unit.
"We've seen an increase in gender violence in the country," he said. "We believe very, very strongly that there is a need to have a gender unit in the Ministry to expedite prosecution and to send a message--perhaps one of deterrence--that we will be prosecuting expeditiously…so that people will not believe that they can go ahead and commit those kinds of offenses and rely on the past inability of the Ministry or the courts to deal with those issues," he added.
Public education and awareness campaign on rule of law
Educating the Liberian people on the role of the ministry of justice, on the country's new laws and on their rights as citizen is the goal of the Center's community sensitization program. The project supports community-based organizations in the promotion of awareness, dialog, and education, particularly in underserved rural areas. Issues of importance to rural populations include excessive court fees, land disputes, domestic violence and inheritance disputes, and the uses and abuses of traditional methods of justice, including trial by ordeal. The government has recently reformed laws relating to rape and has, for the first time, granted wives within traditional marriages the right to own property. Both are sensitive issues in a male-dominated culture.
Partner organizations with roots in local communities, including women's groups, an inter-religious group, a youth group, a human rights group, and a drama club, have used drama, community forums, and radio programs to "tell the story" of the country's rule of law to almost 4,000 people in more than 50 rural communities.
Strengthening the rule of law, according to Liberia's Solicitor General, Tiawan S. Gongloe, is central to "building a culture of peace." The Carter Center, he said, is "a big participant in this crusade to change Liberia in a better direction."
"The Carter Center is making a difference in the lives of average Liberians by helping to educate them on various aspects of the rule of law," he said. "They are simplifying some of the difficult concepts in the law, and encouraging local people to do drama and to use simple methods in the local vernacular to explain some principles of criminal law to local people. This is a capacity we haven't developed as a government yet, so as a key complement to our work, The Carter Center is providing that vital role," he added.
Statutory law and traditional justice
A deep divide exists in Liberia between formal and traditional systems of justice. Local chiefs, elders, and community authorities have used traditional methods of administering justice-such as sassywood and trial by ordeal, which subject accused people to physical tests that are supposed to determine guilt or innocence-for generations; some of which are illegal and unconstitutional.
The Carter Center has convened dialogues between the Ministry of Justice, the Ministry of Internal Affairs, and traditional leaders and other stakeholders to explore the differences between national laws, rural administrative regulations, and customary practices, and to begin to discuss ways that national legal reform might be embraced in traditional communities.
By identifying the ways in which national law and traditional practices interact in ordinary people's day to day lives, the Center can help bring this practical information into the policy making process, according to Tom Crick, assistant director of the Carter Center's Conflict Resolution Program, who also heads the Liberia project.

"This will help ensure that any new laws stand a better chance of being both consistent with Liberia's reform agenda, existing laws-including Liberia's international human rights obligations-and the realities of community traditions and practices, as far as this is possible," he said. "Popular understanding and acceptance of the new legal order is a critical element in protecting ordinary Liberians from the historic misuse of state power and thereby eliminating one of the major causes of the recent wars."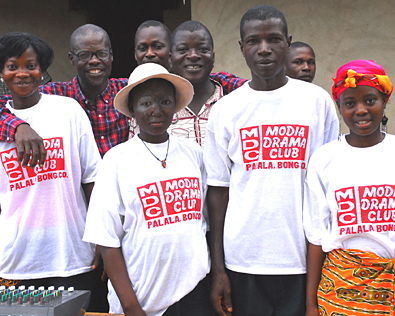 Related Resources