Feb. 10, 2008
The Modia Drama Club, based in Gbarnga, Liberia, is a Carter Center partner in the rule of law public education and awareness campaign. Members travel to Liberia's most remote villages by foot, motorcycle, and four-wheel drive, to educate entire communities-often gathered in open-air settings-through skits, music, and interactive dialogue on Liberia's new laws.
What difference is the Modia Drama Club is making in the lives of villagers in Liberia?
A huge impact! A lot of people turn out for an exchange of ideas. Everything is interactive, people are responding to our rule of law education, people want to know more about the rule of law because this country has a serious history of violence because people did not respect the rights of others.
Which of the laws are people most surprised by?
Rape. People don't know that rape is a crime and if you rape a woman, or you rape a child, you can go to jail.
How has your life changed since the elections in 2005?
At first, I was embattled in the war. I ran away from my home region and sought refuge in the Ivory Coast twice, in Kenya once, and then Monrovia. My life has changed because I now have hope, I now have peace, and I am a peace ambassador. The fact that I go from town to town along with my group, to talk about the rule of law, gives the local villagers some hope and some inspiration that, indeed, light is at the end of the tunnel.
Where do you hope to see Liberia in five years?
I hope to see Liberia as a growing nation after a period of war, and abundance in full supply for its citizens. I hope to see ex-combatants brought into the limelight to be used in the agricultural sector, because the country is short of rice supply. In Liberia, when we talk about agriculture, we mean rice. When you look around, you can see oranges, you can see bananas, but our staple food in Liberia is rice. Right now, the cost of a bag of rice is about $30 Liberian dollars and the salary of the average civil servant is just less than $25 Liberian dollars. A man's salary cannot afford him to buy a bag of rice, and rice is our staple food. If the government were to give support to the agricultural sector-especially the production of rice-everyone will be happy, there will be less tension in the country, and there will be an abundance of food for us to eat.
Through the Modia Drama Club, what difference is The Carter Center making in the lives of the average Liberian?
I think it's a tremendous impact The Carter Center is making in the lives of average Liberians. This is the first time that a group is going from town to town, from village to village, to educate people about common law practice, about the constitution, and about the rights of people under the constitution so that we will have peace and stability in post-war Liberia. As you know, peace and stability in Liberia are intertwined with the rule of law. When people disregard the rule of law, they have the potential to go back to violence.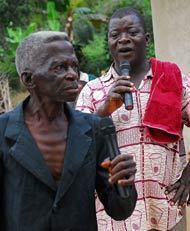 Photo Credit: Carter Center/ C. Nelson
Oscar Dolo (right), director of the Modia Drama Club, engages a village elder in dialogue as part of the presentation on the changes in Liberia's laws.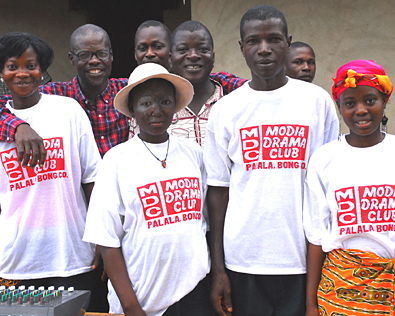 View Slideshow: Strengthening Liberia's Rule of Law >
Read more:
The Carter Center Assists Liberia's Ministry of Justice in Strengthening Rule of Law >>
Carter Center Partners with Traditional Leader of Liberian Women >>
Carter Center Helps Close Gender Violence Gap in Liberia >>