Former U.S. President Jimmy Carter and former First Lady Rosalynn Carter led the Carter Center's international election observation delegation to Nepal's historic constituent assembly elections, co-led by Dr. Surakiart Sathirathai, former deputy prime minister of Thailand.
The 62 observers from more than 20 nations monitored polls throughout Nepal from the 7 a.m. opening until closing at 5 p.m., observed the counting process, and handling of challenges.
The delegation leaders arrived in Kathmandu on April 7, 2008, where they met  with the election commission, political party leaders, representatives of domestic and international election observation delegations, and others.
The Carter Center's observation mission -- the only international election observation organization present throughout Nepal's entire electoral process -- established its field office and deployed long-term observers in March 2007.  They traveled throughout the country's 75 districts multiple times during the pre-election period.
#### 



"Waging Peace. Fighting Disease. Building Hope."

A not-for-profit, nongovernmental organization, The Carter Center has helped to improve life for people in more than 70 countries by resolving conflicts; advancing democracy, human rights, and economic opportunity; preventing diseases; improving mental health care; and teaching farmers in developing nations to increase crop production. The Carter Center was founded in 1982 by former U.S. President Jimmy Carter and his wife, Rosalynn, in partnership with Emory University, to advance peace and health worldwide.

The Carter Center conducts election observation activities in a nonpartisan, professional manner in accordance with applicable Nepali law and international standards for election observation as set forth in the Declaration of Principles for International Election Observation. The Center coordinates closely with other international and domestic observer delegations and publishes its statements on its Web site: www.cartercenter.org. The goal of the Center's mission in Nepal is to demonstrate international support for and provide an independent assessment of the constituent assembly election process in order to help to consolidate sustainable peace and multi-party democracy in Nepal.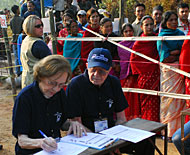 Photos: The Carter Center/Deborah Hakes

President and Mrs. Carter complete a polling center opening form while waiting for voting to begin in Bhaktapur, Nepal.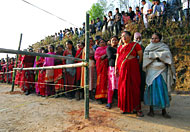 Voters in Bhaktapur, Nepal, wait for polls to open for Nepal's constituent assembly elections. Voting began at 7 a.m.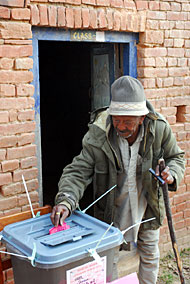 Many polling stations had long lines as polls opened on April 10 in Nepal. Here an early voter casts his vote in Bhaktapur.
Read more about the Carter Center's work in Nepal
1 April 2008:  Jimmy and Rosalynn Carter to Lead Delegation to Observe Nepal's April 10 Elections

1 April 2008:  Nepal Elections Central to Country's Peace Process - Q&A With David Pottie, Associate Director, Democracy Program

18 March 2008: Carter Center Urges an End to Election-Related Violence in Nepal

17 February 2008: Carter Center Calls on Nepal's Government and All Parties to Focus on April 10 Elections

November 2007: Address by Former U.S. President Jimmy Carter to Nepal's Parliament

6 October 2007: Carter Center Statement on the Nepal Election Delay

3 October 2007: Nepal's Peace Process at Critical Juncture; Carter Center Appeals to all Nepali Political Actors to Work Together for Elections 

10 August 2007: Carter Center Urges Nepal to Continue Progress for Nov. 22 Elections

16 June 2007: Statement by former U.S. President Jimmy Carter in Nepal

12 June 2007:  Former U.S. President Jimmy Carter to Visit Nepal

8 June 2007: The Carter Center International Election Observation Mission in Nepal: Second Pre-Election Statement

16 April 2007:  Pre-Election Statement: Carter Center Election Observation Mission in Nepal

9 March 2007:  The Carter Center Deploys Election Observers in Nepal