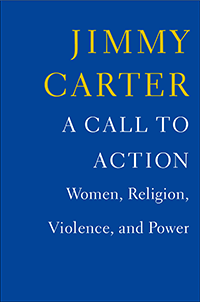 Book signings in your area >
"A Call to Action," a new book by President Carter available March 25 (Simon & Schuster), urges the end of discrimination and abuse against women, calling it the number one challenge in the world today. The book builds on the work of faith leaders and courageous human rights defenders who met last summer at The Carter Center to mobilize faith groups worldwide to commit to advancing women's rights. Religion, they said, should be a force for equality and human dignity not oppression.
In his new book, President Carter argues that people's actions are guided by international agreements as well as their own moral values, most often derived from the Universal Declaration of Human Rights, the Bible, the Koran, and other texts that proclaim a commitment to justice and mercy, equality of treatment between men and women, and a duty to alleviate suffering. He also asserts it is not possible to address the rights of women, the human and civil rights struggle of our time, without looking at factors that create an acceptance of violence in our society - violence that inevitably affects women disproportionately.
Large-scale crimes against women enumerated in "A Call to Action" include: slavery, genital cutting, infanticide, child marriage, rape, honor killings, and economic and social deprivation. He calls on everyone to study these violations of basic moral values and take corrective action. President Carter writes, "My own experiences and the testimony of courageous women from all regions and all major religions have made it clear that there is a pervasive denial of equal rights to more than half of all human beings, and this discrimination results in tangible harm to all of us, male and female." A commitment to universal human rights is desperately needed if humanity is to escape the cycle of war, poverty, and oppression.
Listen to an excerpt from the audio book:
Tell Us What You Are Doing
The suffering of women and girls can be alleviated when individuals take forceful actions, which can impact larger society, asserts President Carter in "A Call to Action." Political and religious leaders share a special responsibility, but the fact is that all of us can act within our own spheres of influence to meet these challenges.
Join President Carter's call to action.
Tell us on our blog how you are working to fight discrimination against and abuse of girls and women in your community, nation, or worldwide.
In "A Call to Action," President Carter suggests 23 steps that can help blaze the road to progress:
1. Encourage women and girls, including those not abused, to speak out more forcefully. It is imperative that those who do speak out are protected from retaliation.
2. Remind political and religious leaders of the abuses and what they can do to alleviate them.
3. Encourage these same leaders to become supporters of the United Nations High Commissioner for Human Rights and other U.N. agencies that advance human rights and peace.
4. Encourage religious and political leaders to relegate warfare and violence to a last resort as a solution to terrorism and national security challenges.
5. Abandon the death penalty and seek to rehabilitate criminals instead of relying on excessive incarceration, especially for nonviolent offenders.
6. Marshal the efforts of women officeholders and first ladies, and encourage involvement of prominent civilian women in correcting abuses.
7. Induce individual nations to elevate the end of human trafficking to a top priority, as they did to end slavery in the nineteenth century.
8. Help remove commanding officers from control over cases of sexual abuse in the military so that professional prosecutors can take action.
9. Apply title IX protection for women students and evolve laws and procedures in all nations to reduce the plague of sexual abuse on university campuses.
10. Include women's rights specifically in new U.N. Millennium Development Goals.
11. Expose and condemn infanticide of baby girls and selective abortion of female fetuses.
12. Explore alternatives to battered women's shelters, such as installing GPS locators on male abusers, and make police reports of spousal abuse mandatory.
13. Strengthen U.N. and other legal impediments to ending genital mutilation, child marriage, trafficking, and other abuses of girls and women.
14. Increase training of midwives and other health workers to provide care at birth.
15. Help scholars working to clarify religious beliefs on protecting women's rights and nonviolence, and give activists and practitioners access to such training resources.
16. Insist that the U.S. Senate ratify the Convention on the Elimination of All Forms of Discrimination against Women.
17. Insist that the United States adopt the International Violence Against Women Act.
18. Encourage more qualified women to seek public office, and support them.
19. Recruit influential men to assist in gaining equal rights for women.
20. Adopt the Swedish model by prosecuting pimps, brothel owners, and male customers, not the prostitutes.
21. Publicize and implement U.N. Security Resolution 1325, which encourages the participation of women in peace efforts.
22. Publicize and implement U.N. Security Resolution 1820, which condemns the use of sexual violence as a tool of war.
23. Condemn and outlaw honor killings.
Published March 17, 2014.
Related Resources
Learn More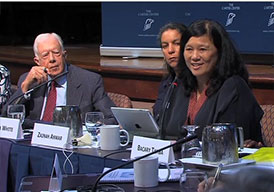 Hear the voices and stories of human rights defenders who inspired "A Call to Action."
The most serious and unaddressed worldwide challenge is the deprivation and abuse of women and girls, largely caused by a false interpretation of carefully selected religious texts and growing tolerance of violence and warfare.
–Jimmy Carter
Join the Conversation