What is a podcast?
The term "podcast" can refer to the file or the method for distributing the file. Generally, a podcast consists of an audio or video file being distributed over the Internet using RSS or Atom syndication formats. You can listen or watch a podcast on your computer or media device.
A podcast is like a show. Usually it has new episodes that are released sporadically or at regular intervals. There are even podcast networks that feature multiple shows.
How do I access podcasts?
The most common way to access a podcast is to use software such as iTunes to subscribe to podcast feeds and download the video or audio files associated with the podcast feed.
You can find podcasts providers by searching within your podcast software or just using a search engine.
Subscribe to a podcast
You can subscibe to a podcast feed by copying and pasting the feed URL into your software.
Note: Different podcatchers have different methods for subscribing to podcasts, so see the instructions for help on subscribing to a podcast.
You can also download individual episodes to your computer directly from the feed URL.
Feed URLs

The Carter Center (Video)
/resources/media/podcasts/new/video.xml

The Carter Center (Audio)
/resources/media/podcasts/new/audio.xml
Already Have iTunes Downloaded?
Click the icons below for direct access to the Carter Center podcast pages: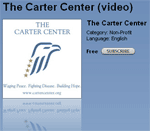 Subscribe: Video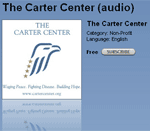 Subscribe: Audio