Sept. 16, 2008
FOR IMMEDIATE RELEASE
Contact: Deborah Hakes, 404-420-5124 
Atlanta…Former U.S. President Jimmy Carter and former First Lady Rosalynn Carter will discuss their recent activities and take audience questions at the sold out opening of the annual Conversations at The Carter Center series on Sept. 23, 7-8:30 p.m. The event will be webcast live at www.cartercenter.org Each Conversation features panel discussions of current world topics and Carter Center work.

The 2008-2009 season will also include a Conversation on how the next U.S. administration can reclaim the country's standing as a champion of human rights, a dialogue on the Carter Center's efforts to make Guinea worm only the second disease eradicated from Earth, an examination of what it takes for an election to meet international standards, and a look at the nature of mental illnesses and misconceptions faced by those affected.
Full details of the Conversations schedule may be found at www.cartercenter.org/conversations.

All Conversations are webcast live and archived on the Carter Center's Web site.

Conversations are held at The Carter Center, Ivan Allen III Pavilion, 453 Freedom Parkway, Atlanta, GA 30307.

The next Conversations is "Restoring Rights and Rules: A New Human Rights Agenda for the United States" and will take place on Wednesday, Dec. 3. Free online RSVPs will be accepted online beginning Nov. 3.
####
"Waging Peace. Fighting Disease. Building Hope."
A not-for-profit, nongovernmental organization, The Carter Center has helped to improve life for people in more than 70 countries by resolving conflicts; advancing democracy, human rights, and economic opportunity; preventing diseases; improving mental health care; and teaching farmers in developing nations to increase crop production. The Carter Center was founded in 1982 by former U.S. President Jimmy Carter and his wife, Rosalynn, in partnership with Emory University, to advance peace and health worldwide. Please visit www.cartercenter.org to learn more about The Carter Center.
Conversations Links
Directions to The Carter Center >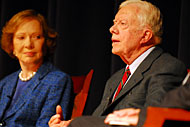 Carter Center Photo
Former U.S. President Jimmy Carter and former First Lady Rosalynn Carter answer questions during a 2007 Conversations event.