Our Conversations series brings you up close with Carter Center experts, policymakers, and other special guests to discuss the issues that shape your world. Following their discussion, panelists take questions from the audience. All Conversations are webcast live and archived for future viewing. You can register online to attend an event in person at the Carter Center's Ivan Allen Pavilion. Some events may require an online ticket purchase. The free live webcasts do not require registration.
Complete 2017-2018 Schedule: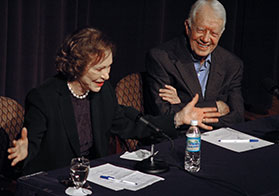 A Conversation with the Carters
Tuesday, Sept. 12, 2017, 7–8 p.m.
Former U.S. President Jimmy Carter and former First Lady Rosalynn Carter discuss recent Carter Center peace and health initiatives around the world, and take your questions. Watch recorded event »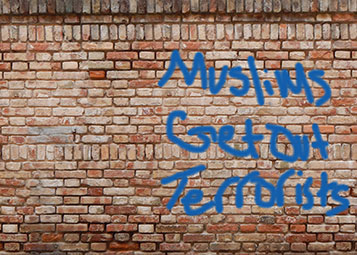 The Rise of Islamophobia
Tuesday, Sept. 26, 2017, 7–8:15 p.m.
Islamophobia and radical extremism are inextricably linked. Find out how the negative portrayal of Muslims in the media impacts real-world events and learn more about strategic responses to Islamophobia in Europe and the U.S. Watch recorded event »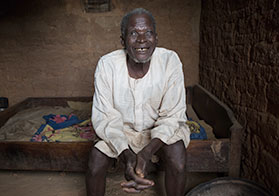 Project Zero
Tuesday, Oct. 24, 2017, 7-8:15 p.m.
Experience 360° virtual-reality video stories from Huffington Post's "Project Zero," which documents neglected tropical diseases, including the Carter Center's work on river blindness and lymphatic filariasis in Nigeria. A panel will discuss the challenges of eliminating the diseases worldwide and their experiences making these short films. Watch recorded event »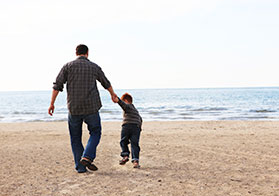 Protecting Mental Health
Thursday, Feb. 8, 2018, 7–8:15 p.m.
In recent decades, the U.S. has made great strides in ensuring that those who experience mental illness and substance use disorders have access to affordable treatment services. However, changing health care priorities are jeopardizing some of those gains. Come hear about ways to protect and advance policies that support access to this essential aspect of health care.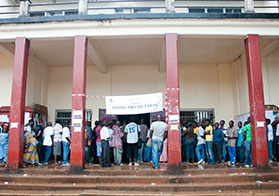 Liberia Looks to the Future
Thursday, April 12, 2018, 7–8:15 p.m. Webcast only
In October, Liberia is scheduled to see its first democratic transition from one president to another since the end of civil war, and several Carter Center programs are joining forces to support a peaceful and transparent election. Our expert panel will discuss what we learned from this important event.