Oct. 25, 2007
Opens in select cities
View list of opening cities and dates (PDF)
Man From Plains is an intimate, surprising encounter with President Jimmy Carter. Following the path of Mr. Carter's recent controversial book tour for Palestine Peace Not Apartheid, Academy Award© - winning director Jonathan Demme reveals a complex individual who, with the gusto and determination of a youngster, crisscrosses the country to get his message across, even as that message creates great controversy. Man From Plains explores both the private and public sides of Jimmy Carter, whose intense sense of justice compels him to pursue, with undiminished energy and hope, his lifelong and deeply spiritual vision of reconciliation and peace.
Join President Carter in his efforts to wage peace worldwide.

You can help by donating to The Carter Center. Click here.
---
---
(Click to enlarge)

Winner
Venice International Film Festival
International Critics Jury Award
Best Biography
Best Feature Film

Official SelectionToronto International Film Festival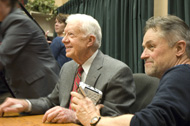 Photo by Alex Cohn © 2007 Real Peace Productions, Inc. courtesy Sony Pictures Classics.  All Rights Reserved. (Click to enlarge)
Former U.S. President Jimmy Carter with director Jonathan Demme.
Go to the official Jimmy Carter Man From Plains Web site >>