CONTACT:
In Nigeria: Meryl Bailey  
E-mail: Meryl.Bailey@emory.edu
In Atlanta: Emily Staub
Telephone: +1-404-420-5126
E-mail: Emily.Staub@emory.edu
Prix Jimmy et Rosalynn Carter Décerné Au Président Touré du Mali, Directeur de Programme Makoy Samuel Yibi Logora
Of the original eleven Guinea worm endemic Francophone countries in West Africa, only Niger and Mali remain, with both aiming to eliminate the disease by the end of the 2008. The successful accomplishments of these countries are due to the hard work of hundreds of in-country volunteers, health workers, government officials, and other partners.
President Jimmy Carter and former First Lady Rosalynn Carter presented Mali's President Amadou Toumani Touré with The Jimmy and Rosalynn Carter Award for Guinea Worm Eradication for his exceptional efforts as a leader and spokesperson for the eradication campaign.
President Touré, with the encouragement of President Carter in 1992, made the eradication of Guinea worm disease in Mali and in the other French-speaking endemic countries in West Africa his personal mission. Thanks to the strong advocacy of President Touré and former Nigeria Head of State General (Dr.) Yakubu Gowon (since 1999) on behalf of the campaign, Africa's political commitment to the eradication effort has been strongly enhanced.
For more than a decade President Touré chaired Mali's Intersectoral Committee for Guinea Worm Eradication. In addition to touring all endemic regions of his own country on extensive mobilization campaigns, he visited each of the ten other endemic French-speaking countries to encourage their heads of state and political leaders to support Guinea worm eradication.
"Political leadership is critical to the Guinea worm effort which relies heavily on mobilizing the public," said President Carter, co-founder of The Carter Center. "President Touré's long-standing activism on behalf of the eradication campaign has played a pivotal part in the successes we celebrate today."
 
The special award was presented during The Carter Center Awards Ceremony for Guinea Worm Eradication held in Abuja, Nigeria on April 2. This is the first time that the award has been presented to sitting head of state.
Also receiving a Jimmy and Rosalynn Carter Award for Guinea Worm Eradication in recognition of his dedicated, relentless, and effective leadership since 2006 in the campaign to eradicate Guinea worm disease was Mr. Makoy Samuel Yibi Logora, director of the Southern Sudan Guinea Worm Eradication Program.
Progress against Guinea worm disease in Sudan has been slow due to a more than 20-year civil war. A peace agreement in January 2005, allowed the Sudan Guinea Worm Eradication Program to reach remote areas of Southern Sudan to determine where transmission of the disease occurs, treat victims, and educate communities about how to stop it. Thanks to these efforts and the leadership of MaKoy, this year during Sudan's peak Guinea worm season, the program reported 5,817* cases, a reduction of more than half from the previous season.
The annual Jimmy and Rosalynn Carter Award was established by President and Mrs. Carter in 1991 to recognize individuals for their outstanding efforts toward eradicating Guinea worm disease.
####
In 1986, the Carter Center's Guinea Worm Eradication Program began its work by assisting Pakistan with its efforts to eradicate the disease, and today, it spearheads the global Guinea worm eradication campaign to assist the national ministries of health to eliminate the disease. Major partners of the campaign include the U.S. Centers for Disease Control and Prevention, UNICEF, the World Health Organization, and many other organizations.
The Carter Center was founded in 1982 by former U.S. President Jimmy Carter and his wife, Rosalynn, in partnership with Emory University, to advance peace and health worldwide. A not-for-profit, nongovernmental organization, the Center has helped to improve life for people in more than 70 countries by resolving conflicts; advancing democracy, human rights, and economic opportunity; preventing diseases; improving mental health care; and teaching farmers to increase crop production. Visit www.cartercenter.orgfor more information.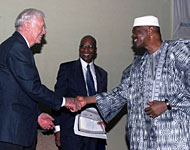 Carter Center Photos:  George Esiri
(Click to enlarge)

President Carter shakes hands with Mali President Amadou Tomani Toure after he is honored with the Jimmy and Rosalynn Carter Guinea Worm Eradication Award for his continued leadership to rid the disease in endemic French-speaking African countries. Carter Center Vice President for Health Programs, Dr. Donald Hopkins, is also pictured, center.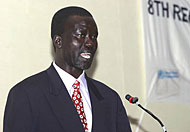 (Click to enlarge)

As part of the ceremony, Southern Sudan Guinea Worm Eradication Program Director Mr. Makoy Samuel Yibi Logora was honored with the Jimmy and Rosalynn Carter Award for Guinea Worm Eradication for his leadership in reducing cases of the disease in Southern Sudan.  Currently, Sudan is the most Guinea worm-endemic country in the world.
Read Press Release:  Campaign to Eradicate Guinea Worm Disease Reports Lowest Case Levels to Date, President Carter Observes  Recent Successes During Special Ceremony