Dec. 9, 2012
CONTACTS: In Atlanta: Emily Staub, +1 404 420 5126; In Kamplala: The Director General Health Services, Ministry of Health, +256-414-340874, +256-414-231584
Uganda has successfully interrupted the transmission of Onchocerciasis (river blindness) in three more foci in four districts: Kibaale (Mpamba-Nkusi focus), Maracha (Maracha-Terego focus) and, Mitooma and Bushenyi (Imaramagambo focus).
Under the National Onchocerciasis Control Programme, the country has for the last 18 years (1993-2011) distributed ivermectin in these districts. In Kibaale district, semi-annual treatment with oral drug ivermectin (Mectizan®), donated by the US Company called Merck, was supplemented by vector elimination.
This latest achievement continues to demonstrate that river blindness elimination is possible in Africa, and follows the February 2012 announcement that Uganda interrupted transmission in its first three foci. A phased approach is being implemented with the goal of interrupting transmission of this age old scourge in the whole country by 2020.
Currently, there are no cases attributable to onchocerciasis (river blindness) in the three foci. In light of this evidence, suspension of treatment with ivermectin (Mectizan ®) was recommended for river blindness endemic communities in these foci. The recommendation was made by the 5th session of the Uganda Onchocerciasis Elimination Expert Advisory Committee (UOEEAC) in August 2012 based on Uganda guidelines for interruption of transmission that were adapted from the WHO Criteria for certification of elimination of onchocerciasis. The recommendation was later endorsed by the National Certification Committee (NCC) of the Ministry of Health during their 5th meeting at the end of October 2012, meaning the foci will begin a three year post-treatment surveillance (PTS) period before the areas can be declared free from the disease.
As a result 561,170 ivermectin donated by Merck & Co, USA will no longer be needed for these foci. This brings the total treatments to be stopped to approximately 1,232,568 people since the programme launched the elimination policy in 2007. To date, Uganda has interrupted transmission in six of the 18 originally endemic-foci. In this regard, Uganda has rapidly made great strides towards elimination of onchocerciasis and this is in line with the shift from control to elimination of onchocerciasis being supported internationally.
River blindness is a parasitic disease and is transmitted through the bites of female black flies that breed in fast flowing rivers. This disease affects 35 districts in Uganda with 3.5 million people at risk. It is one of the Neglected Tropical Diseases (NTDs) that causes severe itching, skin lesions, visual impairment, and can lead to permanent blindness.
The success of these interventions has been through the effort of the National Onchocerciasis Control Program of the Ministry of Health with support of the implementing partners, The Carter Center, African Programme for Onchocerciasis Control (APOC), Sightsavers, ENVISION/RTI, and Merck Pharmaceutical company. We also acknowledge the support of Kibaale, Mitooma, Bushenyi and Maracha District Local Governments, the district onchocerciasis coordinators/NTD Focal persons, supervisors, Community medicine distributors and the communities for their support and cooperation that allowed this to be achieved.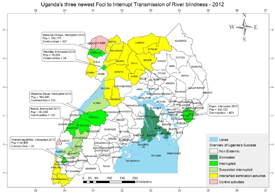 Click to Enlarge Chart: Uganda's Three Newest Foci to Interrupt Transmission of River Blindness – 2012
Watch Video: Success Against River Blindness in Uganda
Watch Trailer: Independent Documentary ComingSoon to PBS stations nation-wide (US), Dark Forest Black Fly
River Blindness Fact Sheet (PDF)
Feb. 23, 2012: Uganda's Success Against River Blindness: An Inspiration for Africa and an International Challenge
Jan. 22, 2008: Uganda Attempts Nationwide Elimination of River Blindness