January 22, 2009
Rosalynn and I flew from Atlanta to Shanghai and then to Beijing to commemorate the 30th anniversary of normalizing diplomatic relations with Deng Xiaoping and to expand our Center's working relations with government ministries. Accompanied on the trip by Melissa Montgomery, we were met by John Hardman and Yawei Liu, and the next day joined Henry Kissinger, Zbig Brzezinski, Brent Scowcroft, six former U.S. ambassadors, and other Americans who have played important roles in China. After assembling at Ambassador Sandy Randt's residence, we participated in the opening ceremonies of a photographic exhibit covering the history of U.S.-China relations, and then I spoke at a seminar of about 200 leaders from both countries organized by the Chinese People's Institute of Foreign Affairs.
It is difficult to describe the profound changes that have occurred in China as a result of my deciding, even before inauguration, to normalize diplomatic relations. Fortunately, as president I had this unique constitutional authority. I knew that the Taiwan lobby (then equivalent to that of Israel) was adamantly opposed to any recognition of "Red China," in those days of fervent anti-Communism. Nixon had visited China in 1972, but the influence of Barry Goldwater, Ronald Reagan, and overwhelming public opinion made it politically impossible for him or Gerald Ford to consider diplomatic ties with the People's Republic of China.
We made some tentative moves in 1977, but it was not until the next year that Vice-Premier Deng Xiaoping and I began negotiating substantively. Because of inevitable leaks in the State Department, I never permitted communications other than directly to and from the White House. Deng and I announced simultaneously in mid-December that we had reached agreement and we established diplomatic relations on Jan. 1, 1979.
Two days after our public announcement, Deng revealed his plan for "Reform and Opening Up," and the impact of these two events has brought about remarkable changes during the past 30 years. China then was relatively isolated, with no free enterprise and without the right of its citizens to worship or to move from one place to another. Its economic system is now the fourth largest in the world, and it is the greatest exporter of goods. Because of the habitual trade imbalance plus our huge deficits during the Bush years, we now owe China about $800 billion. Its cash reserves are two trillion dollars, and its GNP has been increasing about 10 percent per year. It is almost overwhelming to see the dynamic changes and growth in Beijing, Shanghai, and regional centers like Wuhan.
President Hu Jintao was the first of Chinese leaders with whom we met, and all sessions began with a review of the past three decades. I also discussed a wide range of international issues and covered the work of The Carter Center in health care, elections, the Mideast, Sudan/Darfur, nuclear proliferation, future relations with the Obama administration, North Korea, and other subjects of mutual interest.
We then met with Vice-President (likely future president) Xi Jinping, and covered similar issues. In private conversations during an enormous banquet, I had a chance to explore more sensitive matters with him, including Tibet and registration of church congregations.
I spent the next morning having interviews with major Chinese news media and being briefed by our China program partners. We enjoyed a meal at the Quanjude Roast Duck Restaurant hosted by Minister of Civil Affairs Li Xueju, with whom contracts were signed to continue a long-term partnership between The Carter Center and the Chinese government. We then met with Health Minister Chen Zhu to discuss our Center's involvement in some pilot health projects in two counties and also possible cooperation in Africa. Our next meeting was with Premier Wen Jiabao in the Hall of Purple Lights, where I had first met in China with Deng Xiaoping in 1981. Wen is the equivalent of prime minister and supervises all government ministries. After a general discussion in which Kissinger and Brzezinski participated, we had a private session concerning more sensitive issues, with Rosalynn taking notes.
At Peking University Health Science Center, we joined a forum in which Drs. Don Hopkins, Frank Richards, and Ade Lucas of Nigeria, who is a member of our International Force for Disease Eradication, had been participating. I gave a fairly extensive lecture to a larger audience of leaders and medical students about our health programs in Africa, with an emphasis on how much credit the African people deserve for progress in combating Guinea worm, trachoma, malaria, and other diseases. Then I answered questions from students, who seemed to be quite idealistic, wanting opportunities to serve in poverty stricken nations. Cooperation with this large medical school (3,000 med students) is promising.
Our final meeting in Beijing was in the State Guesthouse compound where Rosalynn and I had always stayed on our earlier visits. Joined again by Brzezinski and Kissinger, we enjoyed a somewhat private supper with State Counselor Dai Binguo, who is one of the most influential officials regarding foreign affairs.
The following morning our Carter Center group flew to Wuhan and then drove to Hong'an, accompanied by Madam Li Xiaolin, vice president of the Chinese People's Association for Friendship with Foreign Countries (CPAFFC) who hosted our trip. Her father was a top general with Chairman Mao, then finance minister, and later president of China during the Reagan years. Madam Li has built modern housing for all the villagers, and an impressive memorial museum honoring her father. I spoke to a large group of local farmers, and then answered their questions about my farming, building furniture and homes, and about my personal relations with Deng Xiaoping.
We spent the night in Wuhan, continuing a regimen of two banquets each day, this one a more relaxed affair overlooking the Yangtze River, hosted by the governor of Hubei Province. Although it was below freezing, Rosalynn and I enjoyed a 50-minute walk along the river bank early the next morning. Then we visited the Hubei Provincial Museum, where we heard a concert on enormous 2,400-year-old bells that were unearthed about 30 years ago.
After flying back to Shanghai (Thursday 1/15), we attended a supper hosted by Shanghai Communist Party leaders. They were deeply concerned by the failure of the U.S. to prepare a pavilion for the Shanghai 2010 Expo (World's Fair) to be held in the city, and inclined to blame our country for their current economic woes. The next morning we participated in another ceremony to open an exhibit commemorating the 30th anniversary. I spoke again and answered many probing questions from professors and students. John and Yawei returned to Beijing for further discussions, while we prepared to return home.
The first time I visited Shanghai, in 1949, there were only pedestrians, bicycles and rickshaws. After lunch with Consul General Beatrice Camp, we rode the magnetic-levitated train to the airport, a trip that takes an hour by automobile. Computer controlled, it left at exactly 3 p.m. and arrived at 3:07 p.m. It is the fastest train in the world, designed to run 310 miles per hour, and reached a speed of 269 mph on this short run of about 16 miles. As we flew past the Old City one centimeter above the tracks, I thought the amazing experience symbolized what is happening in China.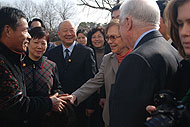 All Photos: Carter Center
 
Former First Lady Rosalynn Carter and former U.S. President Jimmy Carter greet a villager in Hong'an, China before visiting his home as part of their Jan. 10-16 trip.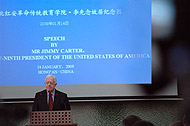 Former U.S. President Jimmy Carter delivers a lecture at the Li Xiannian library.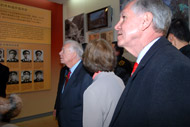 John Hardman, M.D., president and CEO of The Carter Center--with President and Mrs. Carter--tour the Li Xiannian library in Hong'an.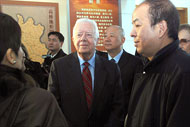 President Carter and Dr. Yawei Liu, director of the Carter Center's China Program, listen to their Chinese host during a tour of the Li Xiannian library.