21 Apr 2007
By Tracy Breton
PROVIDENCE - Suzette Gebhard, the former head of the Governor's Justice Commission, went on trial yesterday for obstruction of justice, a charge that stemmed from her secreting her 90-year-old mother, who suffers from dementia, in her house in Warren, keeping a court-appointed guardian from seeing her.
If convicted of the misdemeanor charge, Gebhard, 60, a one-time Democratic congressional candidate who also served as head of the Rhode Island League of Women Voters, faces up to one year in prison and/or a $500 fine.
No verdict was reached yesterday because District Court Judge Jeanne E. LaFazia said she wanted time to consider arguments made by defense lawyer James T. McCormick, who made a motion to dismiss the case after the town rested its case.
McCormick contends that a person has no legal duty to open their door to the police unless the police have gone to their house in connection with a criminal proceeding. He says the town's case against Gebhard is flawed because law enforcement officers converged on her house in connection with a civil dispute she was having with her sister and a court-appointed guardian over matters involving her mother, Laurette Borduas Eifrig.
A Superior Court judge had issued body attachments - a civil form of an arrest warrant - for both Gebhard and Eifrig after a standoff in which Gebhard had kept her mother's guardian, Paula M. Cuculo, and Gebhard's sister, Francine Ardito, from seeing Eifrig for many months.
Deputy sheriffs and a police officer were at Gebhard's house the morning of Jan. 29 to serve the body attachments and take Gebhard and Eifrig into custody. Also present were Cuculo, a lawyer representing Gebhard's sister and a caseworker for the state Department of Elderly Affairs.
"There was no testimony that they were there to serve any criminal process on Suzette," McCormick argued. "This was strictly civil." The question the court must decide, he said, is "whether a person in the sanctity of their own home has to open the door to officials there on civil business. The answer to that," he said, "is a resounding no."
McCormick said there was no Rhode Island case law directly supporting his view but provided District Court Judge Jeanne E. LaFazia with decisions from Kansas that he said support his argument. He also said that the U.S. Constitution would bar a conviction of Gebhard under the circumstances of this case.
Warren Town Solicitor Fausto C. Anguilla disagreed, saying that both Rhode Island case law and the state's obstruction of justice statute support Gebhard's conviction.
He noted that Section 11-32-1 of the Rhode Island General Laws says that "every person who shall obstruct any officer, civil, military, or otherwise, including any state, city, or town police, sheriff, or fire fighter, while in the execution of his or her office or duty, shall be imprisoned not exceeding one year or fined not exceeding $500."
In court yesterday, Anguilla presented testimony from four witnesses, including Cuculo, who told LaFazia that Gebhard refused repeatedly to open her door when ordered to do so by a Warren police officer and three deputy sheriffs who went to serve the body attachments.
As a result of her refusal, the Warren police got an arrest warrant for Gebhard and firefighters broke down her rear door, took her into custody and removed her frail mother from her house. Eifrig is now living in an assisted-living facility on Smith Street in Providence. A few weeks ago, Superior Court Judge Alice B. Gibney declared Gebhard a "kidnapping risk" and has issued an order barring her from visiting with her mother.
Both Gebhard and her sister are appealing Gibney's order appointing Cuculo guardian of Eifrig. Gibney has scheduled a trial on the guardianship for May 7.
LaFazia adjourned Gebhard's criminal trial until May 1. She said McCormick's arguments were both "interesting" and "crucial" to her deciding whether Gebhard should be convicted of obstructing justice. She invited the lawyers to file briefs on the issue of a person's duty to open the door to the police and "what facts must exist for that duty to exist."
Warren Patrolman Kenneth A. Medeiros Jr. testified yesterday that he repeatedly banged on the door of Gebhard's house at 7 Stonegate Rd., identified himself as a police officer and ordered her to "open up," but that she refused to do so and insisted that he "go away."
Medeiros said he warned her that they would break down the door if she wouldn't let them in and that she'd be charged with obstruction of justice. Gebhard, he said, told him to "break down the door" because she wasn't going to let them in.
Copyright 2007. Used with permission from The Providence Journal.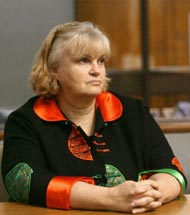 The Providence Journal: K. Borchers

Warren Patrolman Kenneth A. Medeiros Jr., right, testifies yesterday that Suzette Gebhard, above, refused to open the door of her house for him Jan. 29, and told him to "go away" after he identified himself as a police officer and ordered her to "open up."