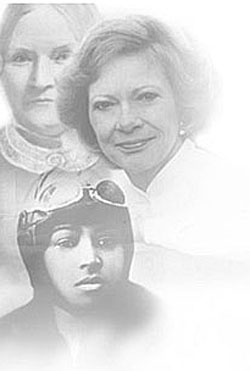 Rosalynn Carter
National Women's
Hall of Fame
Inductee
October 5, 2002
Seneca Falls, NY
From painfully shy schoolgirl to one of the world's most outspoken human rights advocates, Rosalynn Smith Carter has dedicated her life to empowering society's most vulnerable members: children, women, the elderly, and, most frequently, people with mental illness.
The former first lady has worked tirelessly as humanitarian, caregiver, wife, mother, political advisor, and author. Her mental health advocacy efforts, which she launched when her husband was governor of Georgia, span more than 30 years and have resulted in legislative reform and unprecedented coalitions within the mental health community worldwide.
Through her role as vice-chair of The Carter Center, which she co-founded in 1982 with her husband, former U.S. President Jimmy Carter, Mrs. Carter is a full partner in the Center's goals of waging peace, fighting disease, and building hope around the world.
"The remarkable thing about Rosalynn is the gratification she gets from serving her fellow man."
Betty Bumpers, co-founder (with Mrs. Carter) of 'Every Child by Two,' a nationwide early childhood immunization campaign.
The Many Faces of Rosalynn Smith Carter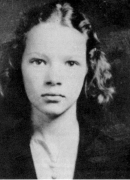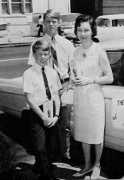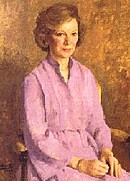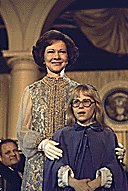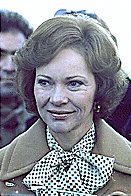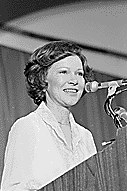 "She is the number one citizen of the world…as a spokesperson for mental health issues."
Thomas E. Bryant, Chairman, Non-Profit Management Association
For over twenty-five years, Rosalynn Carter has been educating America about mental illness. Her efforts to destigmatize the issue and advocate for those affected are nothing short of extraordinary. Without a question in my mind, Mrs. Carter's legacy will be her total dedication and work toward helping others."
Betty Ford, former First Lady and substance abuse awareness advocate.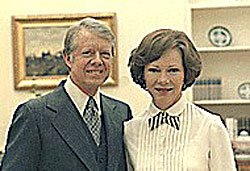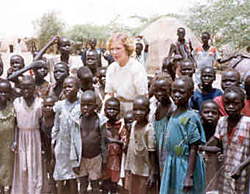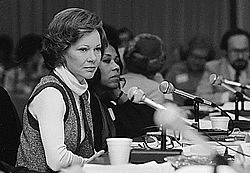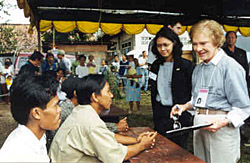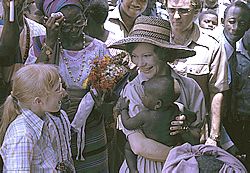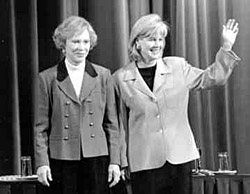 Mrs. Carter was the nation's leading mental health advocate during her years as first lady of the United States (top left), including serving as active honorary chair of the President's Commission on Mental Health (center left), and forging partnerships with other mental health advocates such as Tipper Gore (bottom right). Her global outreach has included many trips focusing on women and children (bottom left), to camps for displaced persons such as Hila Shook in Sudan (top right), and election monitoring to countries such as Indonesia (center right).
Read more: