FOR IMMEDIATE RELEASE
CONTACT: Airina Nusyirwan
In Jakarta, 68-815-614-0409
JAKARTA, INDONESIA…The Carter Center will deploy 57 observers this week in preparation to observe the Indonesian presidential runoff Sept. 20. The Center, which observed the 1999 and the 2004 presidential elections, was invited by the General Election Commission and welcomed by all major political parties to observe the runoff.
Ambassador Douglas "Pete" Peterson will lead the delegation, which will be deployed to 21 provinces. On election day, they will witness poll openings, balloting, and vote counting at polling stations.
Ambassador Peterson served as the first post-war U.S. ambassador to Vietnam after serving three terms as representative of Florida's 2nd Congressional District in the U.S. House. The Center's observer team also includes Dr. David Carroll, interim director of the Center's Democracy Program, and Carter Center Jakarta Field Office Director Eric Bjornlund.
"The Sept. 20 runoff is the last in a series of important elections in Indonesia this year, providing Indonesia citizens with their first opportunity to directly elect the president," Dr. Carroll said. "The presence of international observers is an important demonstration of the interest of the international community in supporting Indonesia's democratization."
The Carter Center has had 12-14 long-term observers based throughout Indonesia since May 2004 to monitor and assess the electoral process and political environment and has issued a series of statements on the election process. The Center deployed 60 observers for the first round of the presidential election on July 5, led by former U.S. President Jimmy Carter and former Thailand Prime Minister Chuan Leekpai. The Center's field office and long-term observers will continue to monitor postelection processes, including the consolidation of results and resolution of election-related complaints, following the Sept. 20 runoff.
####
Editor's Note: The Center will hold a press conference on its preliminary findings on Wednesday, Sept. 22 at 2 p.m. at the Hotel Borobudur.


The Carter Center was founded in 1982 by former U.S. President Jimmy Carter and his wife, Rosalynn, in partnership with Emory University, to advance peace and health worldwide. A not-for-profit, nongovernmental organization, the Center has helped to improve life for people in more than 65 countries by resolving conflicts; advancing democracy, human rights, and economic opportunity; preventing diseases; improving mental health care; and teaching farmers to increase crop production. To learn more about The Carter Center, please visit: www.cartercenter.org.

BACKGROUND: THE INDONESIA ELECTIONS AND THE CARTER CENTER
The Carter Center opened a Jakarta office in late April 2004 to begin a long-term observation of electoral conditions leading up to Indonesia's July 5 presidential elections. This observation will continue through early October, following the Sept. 20 runoff.
"The 2004 elections will be the first electoral test of Indonesia's democratic political institutions and processes since the transitional elections in 1999, and a critical opportunity to demonstrate that the democratic process can yield effective leaders and accountable government," said Dr. David Pottie, senior program associate of the Center's Democracy Program.
After 40 years of military-backed governments, Indonesia began a democratic transition in 1998. In June 1999, Indonesia held its first genuinely democratic elections, for the legislature, a process that was monitored by The Carter Center. The vote for legislative seats was the first step in electing a new president after the May 1998 resignation of President Suharto, who led an authoritarian government for 32 years. While his ruling party won every election for nearly 20 years, 48 parties were approved for the 1999 ballot when his successor, interim President B.J. Habibie, agreed to hold open elections. The Center and the National Democratic Institute fielded a 100-member delegation led by former U.S. President Jimmy Carter and concluded that the elections were credible and represented the will of the people.
Following the parliamentary vote, Abdurrahman Wahid was selected president in November 1999 by the 700-member People's Consultative Assembly, a body including the legislature and other specially represented regional, social, and demographic groups. In July 2001, however, less than two years into his term, President Wahid was removed from office and replaced by Vice President Megawati Sokarnoputri, following an extended clash with the national legislature regarding Wahid's alleged mismanagement and mishandling of state funds.
Since 1999, Indonesians have gained new political freedoms, but recent public opinion polls have found that most Indonesians are disillusioned with government and the country's economic decline.
A Carter Center assessment team in January met with political parties, election officials, civil society and observer groups, all of whom encouraged international observers from the Center to help build confidence in the elections.
Read more about the Carter Center's Election Monitoring Efforts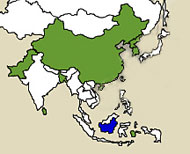 Quick Facts: Indonesia
Indonesia is the world's largest archipelago, composed of more than 14,000 islands, making it the fourth largest country in the world. It achieved independence from the Netherlands in 1949. Current issues include: alleviating widespread poverty, preventing terrorism, effecting a transition to a popularly-elected government after four decades of authoritarianism, implementing reforms of the banking sector, addressing charges of cronyism and corruption, holding the military and police accountable for human rights violations, and resolving separatist pressures in Aceh and Papua. 

Full country name: Republic of Indonesia

Head of State: President Megawati Sukarnoputri

Area: 1.91 million sq km

Population: 219.9 million (UN, 2003)

Registered Voters: 154.7 million

Capital: Jakarta

Major languages: Indonesian, 
300 regional languages

Major religion: Islam 
(The world's largest Muslim country) 

Life expectancy: 65 years (men), 
69 years (women)

Main exports: Oil and gas, plywood, textiles, rubber, palm oil 

GNI per capita: US $710 
(World Bank, 2002) 

Information from the BBC and CIA World Factbook

For more information, go to the BBC Country Profile: Indonesia 

NOTE: The Carter Center is not responsible for the content of external Internet sites.

-----------------------------------------------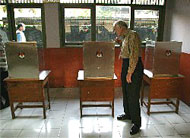 Former U.S. President Jimmy Carter examines a voting booth while poll workers finish setting up before voting begins in the July 5 Indonesia elections.

Election Monitoring: 
The Carter Center in Indonesia

2 August, 2004
Postelection Statement on Indonesia Elections

15 July, 2004
Jimmy Carter: Surprisingly fair elections in Indonesia, International Herald Tribune

9 July 2004
President Carter's Trip Report from Indonesia, June 30-July 7, 2004

7 July 2004
Presidential Elections in Indonesia:The Carter Center's Second Statement(English and Bahasa)

25 June 2004
Pre-Election Statement by the Carter Center on the 2004 Indonesian Presidential Elections 

21 June 2004
Carter Center to Observe Indonesia Elections

3 May 2004
Carter Center Opens Office in Jakarta in Preparation to Observe Indonesia's Presidential Elections 

9 June 1999 
Statement of the National Democratic Institute and The Carter Center International Election Observation Delegation to Indonesia's June 7, 1999, Legislative Elections (PDF)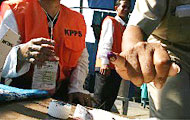 After casting their ballots, voters are required to have one finger inked to prevent anyone from voting twice.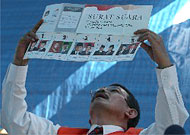 After voting ended July 5, election officials count the ballots. Here, a poll worker holds a ballot up to see where the voter punched a hole in the box above their desired candidate. ALL PHOTOS: THE CARTER CENTER