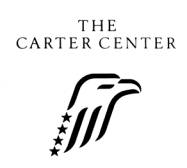 FOR IMMEDIATE RELEASE

CARTER CENTER
CONTACT: Kay Torrance
404-420-5129
kay.torrance@emory.edu

HUMAN RIGHTS FIRST
CONTACT: Nicky Lazar
212-845-5220
lazarn@humanrightsfirst.org
ATLANTA….The Carter Center and Human Rights First hosted the second conference in a series titled "Human Rights Defenders on the Frontlines of Freedom: Advancing Security and the Rule of Law," with former U.S. President Jimmy Carter and U.N. High Commissioner for Human Rights Louise Arbour as co-chairs, U.N. Special Representative for Human Rights Defenders Hina Jilani, human rights defenders from 14 nations, and representatives from major U.S. human rights organizations.
With several dozen innocents killed every week, either in Afghanistan or Iraq, horrible acts of terrorism cry out for concerted international action to control these threats to peace. There was unanimous agreement, however, that the necessary war against terrorism is being used as a pretext for restricting freedoms in many countries, including the United States, and for silencing and targeting human rights defenders. This state of emergency condones despotic acts by governments around the world if the perpetrators claim to be partners in the U.S. fight against terrorism. All too often, government leaders claim the right to investigate allegations of their own abuses, leading to impunity.
It is obvious there is a global need to ensure a proper balancing act, knowing that human rights abuses in the name of counterterrorism often help to conceal or generate more terrorism. In fact, combating terrorism, defending human rights, and ensuring our collective security go hand in hand.
With regard to the United States, despite President George W. Bush's bold reminder that America is determined to promote freedom and democracy around the world, the U.S. continues to suffer terrible embarrassment and a blow to our reputation as a champion of human rights because of reports concerning abuses of prisoners in Iraq, Afghanistan, and Guantánamo.
To demonstrate clearly our nation's historic commitment to protect human rights, our government needs to:
Close down Guantánamo and the two dozen secret detention facilities run by the United States as soon as practicable
Reaffirm the United States' commitment to fundamental principles of due process and to international law and give unequivocal assurances that all provisions of the Geneva Conventions on the treatment of prisoners and the Convention Against Torture and Cruel, Inhuman, and Degrading Treatment, including during interrogations, will be strictly enforced
Assure that no detainees will be held incommunicado and that all will know the charges against them and be insured of international standards for fair trials
Terminate the policy of "extraordinary rendition" (the transfer of detainees to foreign countries where torture has been reported)
Establish an independent, blue ribbon commission with authority to investigate places where terrorism suspects are held in U.S. custody and make a full report to the world, as called for by bipartisan congressional leaders, and
In its policies towards other nations, the United States should look to multilateral mechanisms when seeking to advance freedom and democracy, especially the U.N. Office of the High Commissioner for Human Rights, which is a willing partner in this endeavor.
It is not fair to single out the United States for sole criticism because there are many serious abuses in other countries. All free nations should unite in condemnation of those countries guilty of such abuses, with the Universal Declaration of Human Rights as the standard.

We heard concerns from human rights defenders about the policies of various governments around the world, including the following examples:
In Indonesia, efforts to reform the state intelligence body, implicated in many human rights violations, are being resisted in the name of safeguarding security.
In India, Russia, and Egypt, the law is used to undermine human rights obligations and constitutional rights, as human rights leaders are harassed and civic organizations are shut down.
In conflict zones such as Chechnya (Russian Federation) and Colombia, gross crimes against humanity - and especially the targeting of human rights activists - are justified as counterterrorism, obstructing defenders' vital contributions to conflict resolution.
Persistent poverty contributes to insecurity and violence in countries as diverse as Kenya, Nigeria, and Uzbekistan.
Human rights defenders in countries where tensions could escalate into conflict, such as Indonesia and some areas of India and Thailand, face harassment, physical abuse, forced disappearances, and death from governments, paramilitary groups, and non-state actors. Perpetrators for such violence, especially in places like Colombia and Peru, must be prosecuted.
The most extreme human rights violations against defenders are occurring in Burma, Uzbekistan, and Zimbabwe and require a concerted international campaign led by neighboring states to press those governments to uphold the rule of law and basic respect for human rights.
A delegation of human rights defenders from around the world will proceed to Washington on Wednesday to present their testimony to key leaders of the U.S. government and to the news media. Worldwide, defenders must be substantively involved in policy debates because they provide a bridge between calls for freedom and democracy and the reality of implementation.
Global and National Trends Affecting the Protection of Human Rights: A Discussion Document
#### 

The Carter Center was founded in 1982 by former U.S. President Jimmy Carter and his wife, Rosalynn, in partnership with Emory University, to advance peace and health worldwide. A not-for-profit, nongovernmental organization, the Center has helped to improve life for people in more than 65 countries by resolving conflicts; advancing democracy, human rights, and economic opportunity; preventing diseases; improving mental health care; and teaching farmers to increase crop production. Please visit www.cartercenter.orgto learn more about The Carter Center.

Human Rights First is a leading human rights advocacy organization based in New York City and Washington, DC. Since 1978, we have worked in the U.S. and abroad to create a secure and humane world-advancing justice, human dignity, and respect for the rule of law. All of our activities are supported by private contributions. We accept no government funds. Visit our Web site: www.humanrightsfirst.org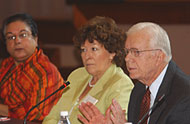 Carter Center Photos: A. Poyo
President Jimmy Carter with co-chair and U.N. High Commissioner for Human Rights Louise Arbour (c.), and Hina Jilani (l.), U.N. Special Representative to the Secretary General on Human Rights Defenders.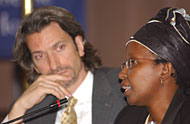 Kaari Betty Murungi (right) of Kenya, director of Urgent Action Fund-Africa, addresses the conference as John Prendergast, special adviser to the President of the International Crisis Group looks on.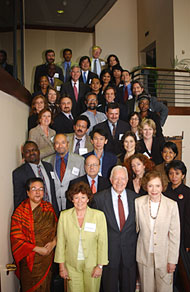 Human rights defenders from 14 nations, and representatives from major U.S. human rights organizations participated in the June 6-7 event at The Carter Center.