CONTACT:
Julie Benz Pottie
404-420-5117
julie.benz.pottie@emory.edu
ATLANTA....More than 50 large boxes filled with T-shirts, socks, underwear, and sleepwear collected by employees of The Carter Center were shipped September 15 to medical centers throughout the Mississippi Gulf Coast to aid men, women, and children hospitalized following Hurricane Katrina.
Employees of the Center have been collecting undergarments and other items to answer an urgent appeal sent by Orange Beach, Ala., resident and Carter Center friend Dianna Ratliff, who learned that hospital gowns were in short supply. With her husband, Dan Ratliff - both participants in past Carter Center Winter Weekend events - she organized this shipment on behalf of Biloxi, Miss., and Gulf Coast area hospitals.
A group of employees, family, and supporters gathered in the early morning at the Center's loading dock to prepare the shipment. They loaded bags and boxes filled with new and gently used items into the donated freight truck to send with Ratliffs as they continue on their 'undergarment drive' drive.
In addition to coordinating with Carter Center staff, the couple is working with medical organizers, local merchants, Mississippi State University fraternities, and sororities to fill a freight liner intended to outfit all Gulf Coast hospitals in the areas devastated by the hurricane.
The emotional effects of hurricane disaster and need for compassionate community response are concepts with which Dianna Ratliff and her family are very familiar.
"Last year when we were affected in Alabama by Hurricane Ivan, we got so much help from people in Kansas, Colorado, New York, and the government. We're just trying to pay back what people did for us. A man said to me yesterday, 'I don't know how to repay you,' and I said, 'I tell you how you repay me - when you get on your feet, and you see somebody else who needs help, you help them,'" said Ms. Ratliff.
The Ratliffs turned to friends and family to contribute to their relief effort. As long-time friends and supporters of The Carter Center, they found willing participants in their Carter Center family.
"The Carter Center and its outreach of help around the world has been an inspiration to our family throughout the years. From the examples that your organization has given us, and our children, in helping others, we feel we must do our share," said Dianna Ratliff.
####
The Carter Center was founded in 1982 by former U.S. President Jimmy Carter and his wife, Rosalynn, in partnership with Emory University, to advance peace and health worldwide. A not-for-profit, nongovernmental organization, the Center has helped to improve life for people in more than 65 countries by resolving conflicts; advancing democracy, human rights, and economic opportunity; preventing diseases; improving mental health care; and teaching farmers to increase crop production.
Read more about the Carter Center's response to Hurricane Katrina:
Carter Center Extends Condolences to Hurricane Katrina Victims
Mental Health and Katrina: Center Expert Featured on Infinite Mind, Deployed to Assist Evacuees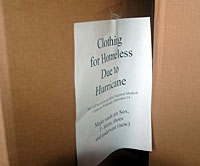 ALL PHOTOS: DEBORAH HAKES/THE CARTER CENTER

Boxes of clothing gathered by Carter Center staff were sent Sept. 15 to Hurricane Katrina survivors in Mississippi.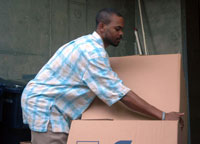 John Billingsly (above), Carter Center facility services coordinator, assists with the early morning truck loading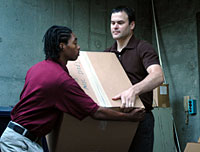 Elijah Olive (left), employed by EMS--a company contracted by the Carter Center--and David Pottie (right), assistant director of the Center's Democracy Program, load much-needed clothing for people hospitalized in the Mississippi Gulf Coast region.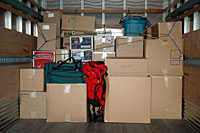 The hospital clothing drive was initiated by Carter Center supporters Dan and Dianna Ratliff of Orange Beach, Ala.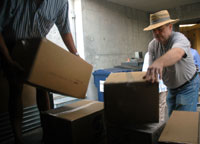 Jim Culliton (right), married to Carter Center Volunteer Services and Art Collection Manager Jackie Culliton, helps stack the final boxes.