Jan. 24, 2006
JERUSALEM....A joint Carter Center/National Democratic Institute delegation of 80 multinational election observers monitored polling stations today in Jerusalem, the West Bank, and Gaza for today's historic Palestinian Legislative Council elections - the first in a decade. The polls close at 7 p.m. (12 p.m. EST).
Led by former U.S. President Jimmy Carter, former Swedish Prime Minister Carl Bildt, former Albanian President Rexhep Meidani, and former Spanish Foreign Minister and current member of the Spanish Parliament Ana Palacio, the delegation includes elected officials, electoral and human rights experts, regional specialists, and political and civic leaders from 22 countries.

In a speech delivered Jan. 23 to the Sixth Herzliya Conference - an annual event highlighting Israel's national security policy - President Carter expressed his hope for peaceful elections.
"Although there is now some justified trepidation about the involvement of candidates from Hamas," he said, "we are hopeful that, despite severe restrictions on voting in East Jerusalem and movement within the West Bank, the election process will be peaceful and another demonstration of the Palestinians' commitment to democracy." Read President Carter's full speech
NDI and the Center previously organized delegations - co-led by President Carter - for the 1996 elections for the Palestinian Legislative Council and president of the Palestinian Authority, and for the January 2005 presidential election.

Delegation leaders will hold a press conference on Thursday, Jan. 26, to release the delegation statement. (The full statement will be posted on www.cartercenter.org and www.ndi.org.)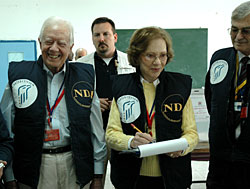 Photo Credit: Deborah Hakes/The Carter Center

Former U.S. President Jimmy Carter, former First Lady Rosalynn Carter, and former Swedish Prime Minister Carl Bildt (right), speak with Palestinian election workers Jan. 25 at a polling station in East Jerusalem. They led a delegation of 80 international observers from 22 countries organized by the National Democratic Institute and The Carter Center.