May 21, 2007
The Carter Center has issued the final report on the 2006 Nicaragua elections, Observing the 2006 Nicaragua Elections(Observación Electoral Nicaragua 2006). Held November 5, 2006, this was the fourth national election in Nicaragua observed by The Carter Center since 1990.
The 62-member international observation delegation was led by former U.S. President Jimmy Carter, former Panama President Ardito Barletta, and former Peru President Alejandro Toledo.
Read the report (PDF): English or Spanish.
Read "La Importancia de la Gobernanza Electoral y la Calidad de las Elecciones en la America Latina Contemporanea," co-written by Americas Program Director Jennifer McCoy. The paper was presented in Managua in May 2007.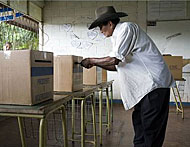 (Photo: The Carter Center/David Evans)
9 November 2006:  President Carter's Nicaragua Elections Trip Report >>

9 November 2006:  Carter Center Statement Regarding Nicaragua Election Results >>

9 November 2006:  Carter Center Election Observation Mission to Nicaragua Issues Post-Election Statement (English and Spanish) >>

Learn more about the Center's work in Nicaragua >>