Feb. 10, 2008
Tiawan S. Gongloe, solicitor general of Liberia, knows his country's justice system from both sides of a jail cell. As a student activist in the late 1970's, he was imprisoned and beaten for speaking out against the government of then-president William Tolbert, and later for speaking out against President Charles Taylor. A human rights lawyer-one of the first in Liberia, Gongloe remained in Liberia throughout the worst time. Although he lived briefly as an exile in the United States, his goal was always to return to his home country: to "change Liberia for the better."
In this Q&A, Solicitor General Gongloe talks about his hope for Liberia and its people.
How has your own experience shaped your commitment to Liberia?
I was in marches, I expressed discontent, I protested, I have been in jail. I was one of the worst critics of my government in the past. That is why I agreed to work in government today. To give some manifestation to my passion, to my views.
I always say that I have a responsibility to make Liberia right. I don't say that 'others' have, I don't say 'we' have. I say "I" have. I always ask what I am doing to fix this situation, to change this situation.
I am here because I am part of a mission, a project to change Liberia for the better. Liberia was established on a vision of creating a country that would be an asylum from abuse. It has to be a land of liberty, under the rule of law. And that is, for me, the national objective and what our visitors must know Liberia for: a land where respect for human rights is given the highest degree of credence than anywhere in the world, because that is what Liberia was established for.
When I have a decision to make, I always ask myself, "How would I have thought about it three years ago, before I became solicitor general?" and that is the right decision.
I am a victim of arrogance in government, I am a victim of abuse of power, and I want to make sure it doesn't happen while I am here.
Since the 2005 elections, what are the areas of greatest growth and greatest challenge for Liberia?
There's the feeling of relief. I recently asked some businessmen, 'How do you see the situation?' and they told me, "Thank you. Thank the government that there is no harassment; no one is coming into our stores and into our offices and asking us to give them money. Nobody is unfairly overcharging us taxes. Business is a little bit slow, but we feel better…that we are not being harassed."
It is a human rights issue. Our tragedy was a result of human rights abuse, and the first thing that people point to is security. When they talk about human security, they are talking about a state of peace. Peace of mind, with nobody bothering them. And that is the only way their creative energies can find an avenue for expression, for the good of society. In a situation where people labor under physical and mental torture, they cannot be free to contribute to the growth of society.
It was a life of hopelessness and despair. Now, the biggest thing is that people have a sense of hope.
If you add the bits and pieces together, it constructs itself into an architecture of hope. And that is what I believe is going to lead Liberia forward; and all of this is happening on the foundation of the pillar of the rule of law, that we are striving hard to build in different ways.
How is the justice system changing?
We are prosecuting, we are declaring some cases dismissed because there is not much evidence, because we try to tell the prosecutors who work under us that the role of a prosecutor is not to convict, but to see that justice is done.
In the outlying regions, people will be found guilty very swiftly. But here, in the Supreme Court, in the coolness of neutrality, we can look at the law and evidence. So, I am saving this government money by not wasting time trying a case. That is a new phenomenon and people will find it shocking, but that is justice.
I appeared before the Supreme Justice (recently) and declined to argue a case, because even though the applicant was convicted of murder in the lower court, I reviewed his file and I saw no evidence for us to sustain this conviction. One of the justices asked me, "But somebody was killed. We have to find the killer." And I said, 'Yes, but we cannot do more wrong by trying to force the situation. One Liberian is dead, but we cannot force the conviction of another Liberian.'
What role is The Carter Center playing in helping transform Liberia?
The Carter Center has done some tremendous work in terms of strengthening the rule of law at the grassroots level. The Carter Center is making a difference in the lives of average Liberians by helping to educate them on various aspects of the rule of law; they are simplifying some of the difficult concepts in the law, and encouraging local people to do drama and to use simple language in the local vernacular to explain some principles of criminal law to local people.
The Carter Center is also helping with the training of our prosecutors, helping us strengthen the rule of law-a key factor in building a culture of peace in this country. If a culture of respect for the rights of the individual, respect for what our lawmakers have said the law is entrenched, then that is how we will build a culture of peace. And the Carter Center is a big participant in this crusade to change Liberia in a better direction.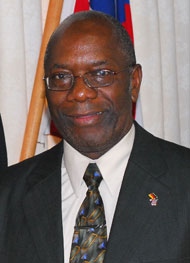 Photo Credit: Carter Center/ C. Nelson
Philip A.Z. Banks
Liberian Minister of Justice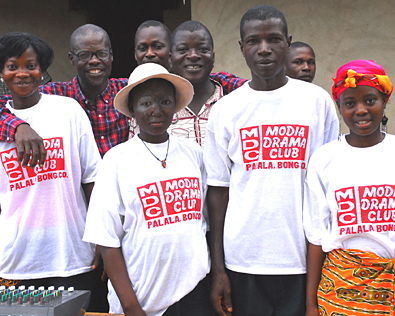 View Slideshow: Strengthening Liberia's Rule of Law >
Read more:
The Carter Center Assists Liberia's Ministry of Justice in Strengthening Rule of Law >>
Carter Center Partners with Traditional Leader of Liberian Women >>
Q&A With Oscar Dolo, Director, Modia Drama Club >>
Carter Center Helps Close Gender Violence Gap in Liberia >>