Overview
Training is an important component of trachoma control. The development of educational training manuals allows educators and community leaders to learn context-specific approaches to trachoma health education.  

Trachoma control programs worldwide develop manuals to facilitate the training of health educators. Training sessions teach educators and village health workers about all four aspects of the SAFE strategy. These sessions usually last a few days. Many manuals are produced in the local language in order to be available to a wider audience.
Designing a Manual and Training Program
When designing a training program, begin by outlining the training objectives. What is the purpose of the training activity and what should participants learn? For example, to develop a training activity on latrine construction an outline might look like this:
Introduction
Transmission of trachoma: the role of flies
The importance of fly control
Latrine construction guidelines and instructions
Latrine maintenance
Training of community volunteers and health workers
Approaches to community involvement
Latrine promotion
Supervision
Select trainers: Who will be your "experts." Work with them to design the training program. Use their input to develop the text of the manual. Include pictures and visual aids to demonstrate key ideas where appropriate. Use language the target audience will understand. Remember to define all technical vocabulary. Develop a training program that balances direct instruction with participatory activities, such as ice-breakers, demonstrations, and group problem-solving activities.
Pre-Testing Manuals: Pre-test the manual with a sample group representative of your training participants. Verify that the format of the manual is logical and clear. Ask the sample group if they found any of the training activities to be culturally inappropriate.
Remember that the manual should have more specific content than the training program itself. The manual is a resource that participants can use as they practice the skills they have learned in training. Training manuals that include additional case examples and exercises encourage the participants to continue learning the topics covered.
View Tutorial to learn more about the design and development of health education materials.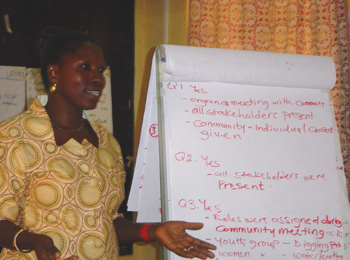 An instructor reviews the importance of community stakeholders in latrine promotion at a regional training in northern Ghana
Carter Center Photo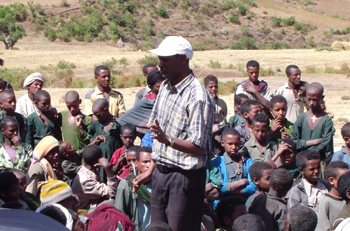 A health worker in Ethiopia leads a trachoma control meeting. Many remote villages without schools rely on these workers to advocate for improved sanitation.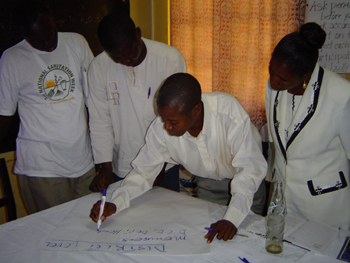 Health and sanitation workers participate in trachoma training activities in Ghana.
---