Ethiopian S.A.F.E poster.

Posters displayed outside an Ethiopian health center feature different aspects of the SAFE strategy.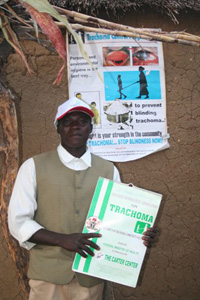 A Nigerian health worker displays his flip chart and poster before conducting health education.
Pre-Testing Posters
Posters must be pre-tested to ensure their cultural relevance. Organizations that support the development and production of health education materials often include their logo or name on the media. While posters draw attention to health problems in the community, they also allow an organization to receive more exposure. Be sure to pre-test materials before production as poor or inappropriate poster design can harm your organization's credibility.

Present the picture or illustration used in the poster to a sample of the target audience and ask:
Does the picture catch your eye? Do you feel like you want to look at it?
What do you see?
Does the picture convey a message to you?
Do you recognize the image? What does it represent?
Does the picture make you want to do something? (positive impression)
Is there anything you do not like about the image? (negative impression)
After pre-testing the images, ask the audience to review the text. Observe how easy or difficult it is for people to read it. Test comprehension and ask them to explain the message in their own words. Ask them if there are any words that are hard to understand, and verify the text is legible. Most importantly, make sure the text and images are culturally appropriate.
If the target audience is hesitant to provide feedback, ask them to compare two different posters that have similar themes. Ask them to identify the most appealing elements from each poster. Find out which poster generates the most comment and feedback from the audience.
Do not worry if a poster requires several major changes until it is finalized. It is better to go through the process of development, editing, testing, re-development, and re-testing than spend money on a campaign that will ultimately fail.