Designing a Flip Chart
The cost of producing flip charts can be considerable. Costs can increase due to design and printing factors such as page size, multiple colors, lamination, binding, and number of pages. It is a good idea to talk to a few printers before designing a flip chart. This will help you decide how big it should be and how many pages to include.
Flip chart images should be organized in a logical progression. Most flip charts are coil or wire bound to keep pages in order since the order of the pages will affect the order of the health messages presented. This can impact the level of discussion and participation by the audience. If the pages are well organized, health workers will be able to use them as an effective tool while leading a meeting on health education.
When designing a flip chart be sure to use culturally appropriate and relevant images. Details such as clothing, headscarves, and depictions of everyday life (cook-stove placement, latrine design, etc.) may seem unimportant compared to the central health messages, but your audience will react to them.
The printed text on the back of the images should be clear and simple. Write messages in both the official language and local dialects to widen the pool of health educators able to teach the material. Sample prompt questions and responses are helpful to get a facilitator started, for example: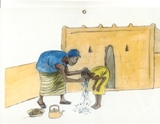 "What is this woman doing here? She is washing the face of her child with soap and clean water. This prevents trachoma."