Jan. 1, 2003
This article originally appeared in the January-June 2003 issue of The Carter Center News.

The women of the extended Ramirez family-Lisa, Martha, Maria, Anna, and Yesenia-range in age from 16 to 52 and have been involved with the Carter Center's effort to eliminate onchocerciasis, or river blindness, for a collective total of 25 years.

The family lives in Guatemala, where only a sister of Martha's sister-in-law has showed symptoms of the debilitating but preventable eye disease the women help fight. That statistic is unusual in a country in which more than 182,000 people remain
at risk for this parasitic disease that's transmitted by black files that breed in rapidly flowing streams. The parasites cause intense itching, and sometimes, blindness.

The women are onchocerciasis village volunteers, trained to administer tablets of Mectizan®, donated by Merck & Co., twice a year to help reach the goal of eradicating the disease in the Americas by 2007.

"Our work is important," said Martha Ramirez, "because people can now be treated at home. We are happy to be of help." The women also say their work has earned them respect in the community and generated faith in the future. "We see that other countries are ahead, and we want to keep up Guatemala's pace toward elimination," they say.
As manager of a coffee plantation, Padro Sofof has come a long way from the days when he cleaned coffee plants or cut grass around them.
The Carter Center is the only nongovernmental organization combating river blindness in both Africa and the Americas. The Center works directly with ministries of health, establishing accountability and building sustainability in the fight against this disease.
He's also come a long way toward understanding how to prevent the disease called river blindness that afflicts his friends and co-workers both when they work in daylight and when they're at home using lamplight.

"When I was 16 and worked on a coffee plantation, I would be bitten 40 to 50 times a day by the black flies," said Sofof. "But more than 10 years ago, I learned about Mectizan and started taking it."

When Sofof came to work on the plantation he now manages, he explained to his new co-workers about the disease and the importance of taking Mectizan. "I remember one woman who, three years ago, refused to take her second treatment. I talked with her, and now she is one of the women who encourages people to take their medication. Another time, the people giving the drug told me that some workers did not take their medicine because they were in the field when it was administered. I went person to person, interrupting their work, and they took the medicine."
Sofof believes that if he can travel to other coffee plantations with people from Guatemala's ministry of health, he can increase the public's trust in health services. "My main hope is to keep clear vision," he says. "I want to thank all of you at The Carter Center because you come here to teach our people to teach the children how the disease is, how to prevent it, and how to cure it. Thank you very much."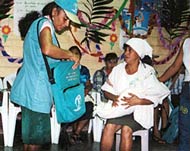 Carter Center Photo
During an onchocerciasis training workshop, Maria and Martha Ramirez role-play for other health promoters.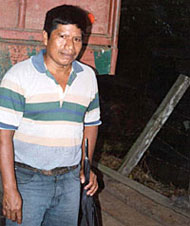 Carter Center Photo
Padro Sofof, plantation manager in San Lucas Toliman, Guatemala, promotes trust in health services