In an effort to foster fairness, increase transparency, and galvanize stability in the electoral process throughout the Americas, with the Canadian Foundation for the Americas (FOCAL) and the University of Calgary - has developed a series of interactive country media maps designed to encourage reform of political finance regulations. Using cutting-edge technology, the maps illustrate where media are located, how far they broadcast, who owns them, and what the demographic profile is of the electoral constituencies they reach.

In this Q&A, Dr. Shelley McConnell, senior associate director of the Carter Center's Americas Program, discusses the groundbreaking media mapping project: its impetus, implementation, and hoped-for impact on democratization in the Americas.

What was the genesis for this project?
In March 2003, The Carter Center held a major conference on Financing Democracy in the Americas at which more than 100 representatives from governments, multilateral organizations, civil society groups, business, and the media met and made recommendations to improve campaign and party funding practices in the Western Hemisphere.

Expert speakers made clear that for most national campaigns, publicity on broadcast media is the highest expense, and television is often the main source of information about candidates and programs. Nonetheless, there is little information about the structure of the media or cost of elections available to citizens.

Ten former presidents and prime ministers participated, from a diverse array of countries such as St. Lucia, Chile, Honduras, and Canada, and they reached agreement on principles that should guide campaign and party finance in the hemisphere.

What is The Carter Center's role?
The Carter Center partnered with the Canadian Foundation for the Americas (FOCAL) and the University of Calgary to implement the project. The Carter Center uses its contacts with governments in the region to help obtain information about which newspapers, television channels, and radio stations exist, who owns them, where they are located and how strong their signals are.

The University of Calgary programs that information using Geographic Information Systems (GIS) technology in order to create electronic interactive maps, and posts them on the Internet. FOCAL coordinates our efforts and also plans and implements seminars to present the maps in the targeted countries to generate public discussion about the cost of electoral publicity. The Carter Center and FOCAL then work with governments and the media to encourage reform of political finance regulations.

The Carter Center's maps of the media put information in public hands, and our public seminars in the mapped countries encourage public debate about the role of media and money in elections.

Is the project unique, and what role do new technologies play?
Never before has anyone tried to locate media broadcast towers and distribution centers on maps and show the reach of those media into electoral districts. Previously, electronic lists of the media had existed for some countries, but these were not visual representations, nor did they have a geographic component. Moreover, the maps juxtapose the information on the media against socio-economic and demographic information as well as electoral information, helping citizens see the correlations between media distribution, wealth and electoral participation, and voting outcomes.

All this is made possible through Geographic Information Systems technology, which has been used in the past for environmental, agricultural, and urban planning analysis, but not for mapping media distribution and reach. Advanced GIS programs can conduct spatial analysis and geographically weighted impressions that can increase the accuracy of studies about the impact of the media on the vote.

How were countries chosen for inclusion in the project and how was information gathered and mapped?
The countries are geographically distributed across the sub-regions of North America, Central America, the Andean Region, the Southern Cone, and the Caribbean. They are countries in which government authorities have been receptive to sharing data on elections, demography, and the media, and where The Carter Center has good contacts as a starting point for data collection. We have sought to include a wide variety of electoral systems and political finance regulatory practices.

The information was gathered through Internet research and visits to the relevant government ministries in each country. In the same way, we collected links to the Web sites of non-governmental organizations working on political finance and the media, and to reports and articles published on those themes, that will be posted on the media maps. For most countries, we hope to develop a collaborative agreement with a local university that can keep the map up to date over time. For a few others where GIS technology is less developed, the University of Calgary will periodically update the maps.

How do you hope the maps will be utilized?
Anyone with access to the Internet can use the maps without charge. This includes citizens of the mapped countries and interested foreigners across the globe.

Universities will use the maps to conduct research on the impact of media messaging on the vote. Non-governmental organizations will use the map to analyze media use and develop reform proposals, and will feature their reports and recommendations on the map through our text hotlinks. Political parties will use the map to plan their campaign strategies, recruitment and media use. Election authorities will use the map to assure that civic education messages reach all the voters, in the languages that are spoken in each district.

What has the feedback been so far from Canada and Peru?
The Canadian press was deeply interested in the map, which was released the week before Canada's January 2006 election. Canadian experts on political finance have since decided to hold a conference at the University of Calgary to discuss political finance in Canada, including the role of the media in affecting costs.

In Peru, our launch of the map was covered by the key television, newspaper, and magazine sources of political information. Eighty-five civil society and party leaders came to the public seminar on the media and finance, and presentations were given by the vice minister of communications and the head of the National Geography Institute. The Catholic University of Peru has negotiated an agreement with the University of Calgary to maintain the map.

What impact do you hope this project will have on democratization?
Surveys of citizens attitudes toward democracy in the hemisphere reveal that Latin Americans have lost confidence in political parties and legislatures, and there has been substantial instability in the executive branch: Since 1990, 15 presidents left office before their terms were concluded. Part of the explanation is that voters feel politicians are responding to the individuals and companies that donate to their campaigns rather than responding to voters, many of whom are poor and do not make campaign contributions. The connections between citizens and political parties have been weakened as the parties' organizing strategies have shifted from door-to-door tactics reliant on community activism to mass media campaigns.

The resulting implications for improved political stability in addition to widening access to information and democratizing campaign finance practices are enormous. Political stability often directly leads to economic and social equality, stability, and improvements. This media mapping initiative can help equalize the political landscape of any given country, thereby setting it on the path to more meaningful citizenship and more responsive governance. This can lead to sustainable socio-economic improvements for the vast number of poor and indigent citizens.

By providing citizens with information about the communications media, their role in elections and the cost of campaigns, and by providing links to activist organizations, The Carter Center and its partners empower citizens to change national legislation that regulates political finance.

Our seminars encourage national discussions about whether citizens want candidates to have more equal access to the media, and whether they want media to practice equal pricing and disclose their discounts to candidates and parties as political contributions. The political finance information provided on the maps of other countries will encourage citizens in countries without such legislation to ask why there is no regulation and press their representatives to create it.

In this way, citizens can participate in regulation of political finance that will reveal the linkages between donors, candidates, parties and the media and thereby reduce undue influence over politicians. In addition, the maps will enable small and independent parties to identify the media that reach each constituency, thereby allowing them to target their media messages and recruit effectively at a lower cost. Money will matter less in electoral outcomes.
-Dr. Shelley McConnell

Read about the April 5, 2006, seminar in Guatemala

Dr. Shelley McConnell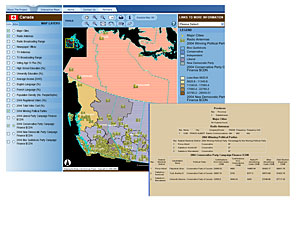 The Mapping the Media project shows the relationship of political finance and the media to election results. Interactive maps let users view information and conduct queries based on country specific data.
In the illustration above, the user chose to show the relationship between 2004 winning political parties and spending by the Conservative party campaign at radio stations in southwestern Canada.
The table (inset) generated by the user shows that in Saskatchewan province, the Conservative party spent $CDN14485.44, $CDN 6377.2, and $CDN 4280 on radio/TV advertising costs and won all three electoral districts.