Jan. 8, 2018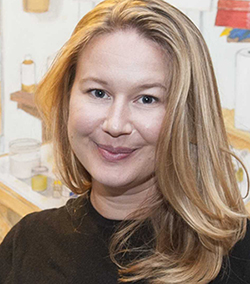 Healing from trauma sometimes goes beyond individual therapy, journalist Emily Underwood reports. Underwood is helping readers understand that when an entire community experiences trauma, a kind of communal healing needs to take place as well.
Underwood, a correspondent for Science magazine, was one of 16 journalists selected to receive a 2016–17 Rosalynn Carter Mental Health Journalism Fellowship. The competitive fellowships provide journalists with training and funding to increase public understanding of mental health issues.
The stipend provided by the one-year fellowship allowed Underwood to travel to learn about and meet refugees who are members of the Yezidi community, a long-oppressed Iraqi religious minority. Thousands of Yezidis have been driven out of Iraq by successive attempts to exterminate them, whether by the so-called Islamic State (also known as ISIS or Daesh) or by previous regimes.
In addition to individual pain, "Yezidi refugees also experience trauma collectively, because they are and have long been targeted as a group," Underwood said. "The sources I talked to insisted that this group suffering — the result of repeated genocide — must be addressed both within individual therapy and in efforts to help Yezidi communities heal."
Many such efforts come from within the Yezidi community and its traditions, but host countries and mental health professionals can help by supporting asylum policies that allow families and communities to stay together and providing therapies that acknowledge Yezidis' shared traumatic history, she said.
"It wasn't enough to talk about and address the symptoms of an individual — (practitioners) had to consider the history of genocide within the group and how the current forced diaspora is affecting the bonds that have helped that community survive centuries of persecution," Underwood said. "Many psychologists and psychiatrists I talked to pointed to Yezidis' community ties as an important source of strength and resilience. These ties are under huge strain as they are forced to relocate across the globe."
Underwood, of Coloma, California, spent time in refugee camps in Greece, where she met the Yezidi family who became the focus of a story she wrote for Science. She also visited other places where health professionals and researchers are grappling with the mental health challenges many refugees face, including Sweden, the Netherlands, Germany, and Lebanon.
"This fellowship allowed me to get out of the office and into the field — I could never have spent so much time traveling and interviewing without the fellowship's support," Underwood said.
As a science writer, Underwood has visited many laboratories, attended conferences, and conducted thousands of phone interviews.
"Although that is great training, it does not prepare you to walk into a refugee camp and talk to strangers about something as raw and personal as their mental health," she said. "The fellowship training process gave me some ideas about how to do that respectfully and ethically, but it was still challenging and intimidating. I learned many lessons in the process that I hope will translate into my future stories."
Over nearly two decades, The Carter Center has awarded Rosalynn Carter Mental Health Journalism Fellowships to nearly 200 journalists, connecting them with resources and experts to increase the quality and accuracy of mental health reporting. The program currently works with journalists in the United States, Qatar, the United Arab Emirates, and Colombia.
---
Related Resources
Science Magazine | Surviving Genocide: Storytelling and Ritual Help Communities Heal