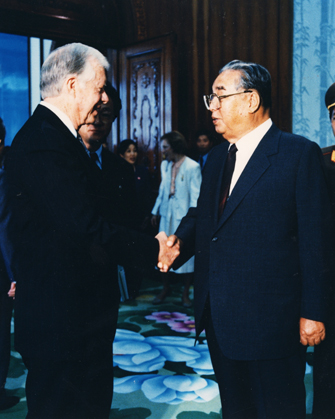 Place: Pyongyang, North Korea
Date: June 16, 1994
Credit: The Carter Center
President Carter and North Korea President Kim Il Sung in Pyongyang, North Korea.
In 1994, the United States and North Korea were on the brink of war due to concerns North Korea was trying to build a nuclear weapon. In the absence of diplomatic relations between the two nations, President and Mrs. Carter were sent as private citizens representing The Carter Center to meet with President Kim Il Sung in Pyongyang. A breakthrough was achieved, and North Korea agreed to freeze its nuclear program in exchange for a dialogue with the United States. The trip set a new stage for efforts to strengthen peace on the Korean Peninsula.