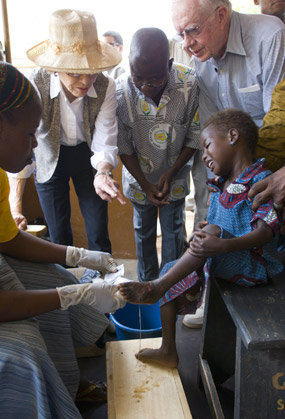 Place: Savelugu, Ghana
Date: Feb. 8, 2007
Credit: The Carter Center
At Savelugu Hospital in Northern Region Ghana, former U.S. President Jimmy Carter and his wife, Rosalynn, watch as a Guinea worm health worker dresses a child's extremely painful Guinea worm wound.
To end the social and economic consequences associated with this horrific disease, The Carter Center spearheads the international Guinea worm eradication campaign. Since 1986, Guinea worm disease (dracunculiasis) has been reduced by more than 99 percent. Today, The Carter Center and its partners, in collaboration with thousands of dedicated community health workers, continue to intensify efforts to fight the last fraction of 1 percent of Guinea worm disease. Thanks to this work, Guinea worm is poised to be the next disease eradicated and will be the first to be overcome without a vaccine or medicine.