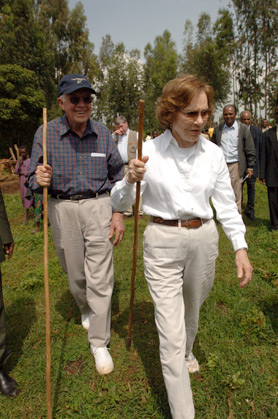 Place: Mosebo, Ethiopia
Date: Sept. 15, 2005
Credit: The Carter Center
Former U.S. President Jimmy Carter and former First Lady Rosalynn Carter, senior officials from The Carter Center, and Ethiopia Minister of Health made a visit to the village of Mosebo to commend the efforts of the Amhara Region to prevent trachoma, a painful bacterial disease that causes blindness.
Widespread and debilitating, trachoma is considered a major public health problem in Ethiopia. In October 2000, The Carter Center, with funding from Lions-Carter Center SightFirst Initiative, accepted the Ethiopian government's invitation to work on controlling trachoma in the Amhara Region. Thanks to disease control interventions, the Ethiopia Ministry of Health, with the assistance of The Carter Center, is fostering a new generation of Ethiopians that will never know the devastating affects of the disease.