Oct. 26, 2006
A 45-member Carter Center delegation will observe voting in the Democratic Republic of the Congo's presidential run-off and provincial assemblies elections on Sunday, Oct. 29. They are among the estimated 1,500 observers deployed throughout the DRC by international groups including the European Union and the African Union.

Former Prime Minister of Canada Joe Clark will lead the Center's delegation.
The Carter Center began long-term election observation in the DRC in April following an invitation from the Independent Electoral Commission (CEI), and the welcome of all major political parties to observe the presidential and legislative elections.

Mr. Clark led the Center's delegation for the July 30 elections and he will be joined once again by John Stremlau, associate executive director of the Carter Center's Peace Programs, who returns as co-leader.

Sunday's final round of historic polls is aimed at ending years of war and chaos.

Here are some key facts about the elections (courtesy Reuters):
This year's polls are the first open, multi-party elections in more than 40 years in the former Belgian colony and are costing the international community more than $500 million.
The run-off vote pits incumbent President Joseph Kabila, who came first in a July 30 poll with 44.81 percent, and former rebel leader Vice-President Jean-Pierre Bemba, who came second with 20.03 percent. Each has formed alliances with a number of losing candidates from the first round to back their campaign.
More than 11,000 candidates are standing in simultaneous elections to regional assemblies in Congo's 11 provinces.
More than 25 million voters are registered to cast their ballots at 50,000 polling points. The Independent Electoral Commission (CEI) says it has more than 250,000 personnel to run polling stations and count ballots.
Election officials plan to announce the result from the run-off vote on Nov. 19, to be confirmed by the Supreme Court of Justice by Nov. 30. Provisional results from provincial assembly elections are due on Dec. 10.

Helpful Sites | Read More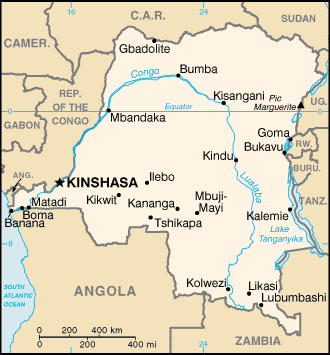 Read more about Carter Center Activities in the Democratic Republic of the Congo
 
Carter Center - DRC News Releases

23 October 2006:  Carter Center to Observe Presidential Run-Off Election in the Democratic Republic of the Congo

31 August 2006:  Second Post-Election Statement on the Democratic Republic of the Congo Elections

31 August 2006:  Preliminary Statement of The Carter Center on the Democratic Republic of Congo July 30, 2006, Elections (English and French)

21 July 2006:  Democratic Republic of the Congo Election Observation: Joe Clark, John Stremlau to Lead International Delegation (English and French)

12 July 2006:  Democratic Republic of the Congo Election Preparations: Second Carter Center Statement (English and French) 

6 June 2006:  First Carter Center Pre-Election Statement on Preparations in the Democratic Republic of the Congo (English and French) 

2 May 2006:  The Carter Center Deploys Election Observers in Democratic Republic of the Congo  (English and French)