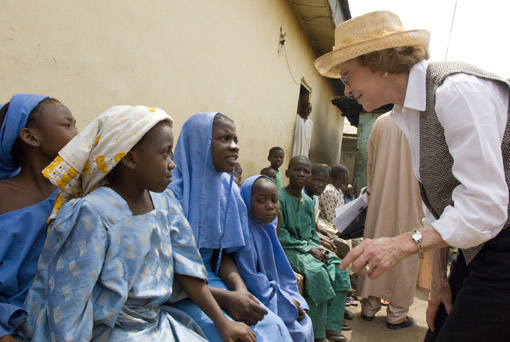 Place: Nasarawa North, Nigeria
Date: Feb. 15, 2007
Credit: The Carter Center
Former First Lady Rosalynn Carter greets schoolgirls suffering from schistosomiasis in Nasarawa North, Nasarawa State, Nigeria Feb. 15, 2007, as part of a two-week African tour of the Carter Center's health programs. President Carter and Mrs. Carter visited the community to bring national attention to the importance of the medicine praziquantel and other disease interventions to prevent schistosomiasis in rural and impoverished communities. Today, The Carter Center, in partnership with the Nigerian government, provides health education and approximately 1 million treatments annually for schistosomiasis - the largest initiative for schistosomiasis in Nigeria.