Director, Human Rights Program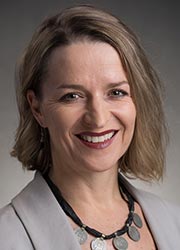 Susan Marx
Susan Marx was appointed director of the Carter Center Human Rights Program in May 2022. Prior to that, she was project director for the American Bar Association Rule of Law Initiative combating human trafficking in the Southern Africa Development Community and implementing women's economic empowerment and gender-based violence reduction initiatives in Eswatini.
Previously, Marx spent 10 years with The Asia Foundation, most recently as the country representative in Timor-Leste, managing a diverse portfolio including gender-based violence, police reform, and sustainable economic development programs. She first joined the foundation as a program manager for women's rights in Afghanistan. Marx started her career as a communications officer for the U.S. Agency for International Development in Iraq.
Marx is an expert in human rights, rule of law, access to justice, gender-based violence and combating human trafficking as well as strategic leadership, program design, implementation, and operational management. She has spent most of her career in the field and has experience in Africa, the Middle East, Asia, and the United States, with specific focus on conflict, post-conflict, and least-developed environments.
Marx holds a Master of Studies degree in international human rights law from Oxford University, a master's in African studies from UCLA, and a Bachelor of Arts from the University of Southern California. She is also a graduate of the Yale School of Management Women's Leadership Course.